Scott Brown, Long-Distance Runner
Former Massachusetts plans Senate comeback, from New New Hampshire.
by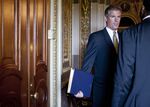 Former Massachusetts Senator Scott Brown appears to be trying to return to the Senate, this time from New Hampshire. He's hiring staff, and has given up his Fox News contract as he forms an exploratory committee. So I guess he's in.