San Francisco's Dumb Ban on Bottled Water
From a public policy standpoint, it makes absolutely no sense to ban a packaging option that's highly recyclable while allowing competing, oftentimes less-recyclable options to be sold in their place.
by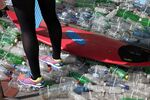 Last week San Francisco's Board of Supervisors voted to ban bottled water from city property and events, as well as food trucks regulated by the city. The legislation is widely acknowledged to be among the strictest bottled-water bans in the country, and in the environmental community at least, it's being hailed as an important step in ridding landfills of the scourge of plastic bottles.
A tad smugly, David Chiu, the city supervisor who authored the legislation, underscored that the ban was intended to change behavior, too, not just packaging. "I want to remind people that not long ago, our world was not addicted to plastic water bottles," he said. "For centuries, everybody managed to stay hydrated."
That's true: The average American went from drinking less than five gallons of bottled water per year in 1976 to more than 30 gallons in 2012. This didn't happen in a vacuum, however. In 2012, U.S. soda consumption fell for the eighth straight year, to levels last seen in 1996. The cause of the decline is open to debate, but a greater health consciousness on the part of Americans -- and a shift to sugar-free beverages like bottled water -- surely played some part. Everybody did manage to stay hydrated before -- especially on Coke and other sugary and processed beverages.
San Francisco is hoping that instead of switching back to cans of Dr. Pepper, thirsty food-truck patrons will now bring along reusable water bottles to refill from drinking fountains. But in any case, health considerations -- including concerns about the leaching of chemicals from plastic bottles -- are not the point of this legislation. If they were, the city would have banned plastic beverage containers outright.
Instead, the focus is on reducing the number of PET bottles (made from polyethylene terephthalate) currently clogging city landfills. According to recently released U.S. Environmental Protection Agency figures, containers and packaging accounted for 30 percent of the 251 million tons of U.S. municipal solid waste generated in 2012. PET bottles accounted for 2.79 million tons.
That's a significant number, but compared to the 36.4 million tons of food and the 33.96 million tons of yard trimmings that Americans also tossed out in 2012, it hardly qualifies as the biggest contributor to U.S. landfills. More importantly, unlike for yard trimmings and food waste, there's already an economically viable means of cutting back on PET bottle waste: recycling.
The EPA says that plastic bottles were the most-recycled plastic products in 2012, with a 30.8 percent recovery rate. Compared to China and other developing countries where the recovery rate tops 90 percent, that's hardly something to boast about. It means that the U.S. sends 1.93 million tons of plastic bottles of all kinds (not just water bottles, as the preface to the San Francisco legislation erroneously claims) to landfills every year.
PET is relatively valuable: Depending on type and condition, recycled flakes go for around $800 per ton. That means it has a robust, almost bottomless market both in the U.S. and overseas. Indeed, PET bottles are much easier and more profitable to recycle than the other containers that San Francisco's leaders don't seemed bothered by, including milk cartons, juice boxes and paper cups.
Why ban water bottles, and not far more difficult-to-recycle Starbucks cups? Sure, every product -- recycled or not -- has an energy and resource cost. But from a public policy standpoint, it makes absolutely no sense to ban a packaging option that's highly recyclable while allowing competing, often less-recyclable options to be sold in their place. If San Francisco's goal is to reduce the number of water bottles in its landfills, officials will abandon silly efforts to prevent food trucks from selling Aquafina, and instead do the hard work of figuring out how to convince residents to deposit more of their bottles in recycling bins.
(Adam Minter is a regular contributor to Bloomberg View based in Shanghai and the author of "Junkyard Planet," a book on the global recycling industry. Follow him on Twitter at @AdamMinter.)


This column does not necessarily reflect the opinion of Bloomberg View's editorial board or Bloomberg LP, its owners and investors.