Pope Francis's Year in Sports
As a man of the people, the great, equalizing force of sports have played a prominent role in Pope Francis' first year.
by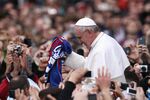 Everybody knows that in the year since being named pontiff, Pope Francis has turned the Catholic Church on its head. He has espoused relatively progressive views on homosexuality, marriage and divorce, contraception, women and the poor in an institution long bogged down by rigid doctrine. But few may have noticed that the great equalizing force of sports has also played a prominent role in the so-called People's Pope's first 12 months.