How Many Lives Does It Take to Build a World Cup?
Let's focus on Qatar's labor practices, because this is a subject that hasn't gotten adequate airing in the West.
by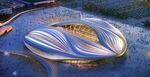 A number of journalists associated with Al Jazeera have contacted me recently to defend their employer, the Qatari government. (Al Jazeera is a project of the Qatari royal family that is meant to influence events beyond the tiny state's borders.)
In a piece published Wednesday, I argued Qatar is such a consistently bad actor -- both in the Persian Gulf and beyond -- that it makes Saudi Arabia look good by comparison. This statement offended some of Qatar's bought-and-paid-for journalists, who nevertheless did not bother to defend Qatar's record of supporting terrorists and extremists or the atrocious slave-state behavior it exhibits as it builds a massive infrastructure to support the 2022 World Cup. Instead, these correspondents argued that Qatar's neighbors actually behave even worse.
Let's stipulate that Saudi Arabia, Bahrain and other Gulf states regularly do terrible things. Pointing to those terrible things does not absolve Qatar of its own terrible deeds, which are pretty terrible.
Leaving aside, for now, Qatar's support for destabilizing extremists (including the murder-endorsing Al Jazeera televangelist Yusuf al-Qaradawi), let's focus on Qatar's labor practices, because this is a subject that hasn't gotten adequate airing in the West. In fact, if it weren't for the Guardian's heroic journalism, we probably wouldn't know much at all about the horrific treatment of Qatar's foreign workers.
According to the Guardian, which has been investigating Qatar's labor practices, roughly 900 migrant workers from India and Nepal have died since 2012. According to the International Trade Union Confederation, 4,000 people may die before the World Cup even begins, if the Qatari government does not substantially improve working conditions for its migrant laborers. So far, the government, under intense pressure, has only made token gestures in the direction of labor reform.
Deaths are only part of the picture. In September, the Guardian reported that, based on its investigation, "Workers described forced labour in 50C heat, employers who retain salaries for several months and passports making it impossible for them to leave and being denied free drinking water. The investigation found sickness is endemic among workers living in overcrowded and insanitary conditions and hunger has been reported."
Injuries abound as well. "The Director of Trauma and Intensive Care at Hamad Hospital stated in February 2013 that injuries due to falling from heights at work sites have now reached more than 1,000 per year, with the mortality rate being 'significant' and ten per cent of victims suffering disability as a result," explained an Amnesty Internationalreport, which cited a Peninsula article.
Human-rights organizations have detailed the many cruel labor practices foreign laborers encounter, including the practice of employer sponsorship, which means that workers who migrate from small villages in their home countries survive in Qatar only at the sufferance of the employers who sponsor them. This means they cannot change jobs once in Qatar, giving employers -- especially those with malignant intent who refuse to pay promised wages -- enormous power over employees.
"Almost all migrant workers have huge debts from Nepal, accrued in order to pay recruitment agents for their jobs," the Guardian reported."The obligation to repay these debts, combined with the non-payment of wages, confiscation of documents and inability of workers to leave their place of work, constitute forced labour, a form of modern-day slavery estimated to affect up to 21 million people across the globe. So entrenched is this exploitation that the Nepalese ambassador to Qatar, Maya Kumari Sharma, recently described the emirate as an 'open jail.'"
Qatar is spending $200 billion in order to host the world's premier sporting event. "The overall picture is of one of the richest nations exploiting one of the poorest to get ready for the world's most popular sporting tournament," the Guardian states.
The Qatari ruling family's prestige is intimately tied up in hosting a technically flawless, if morally bankrupt, tournament. So are the reputations of the architects and construction firms that have descended on Qatar in search of huge payouts. The Guardian recently asked renowned architect Zaha Hadid, who is designing Qatar's most aesthetically controversial stadium (critics argue -- with merit -- that it resembles a vagina), for her opinion about the frightening pace of migrant deaths on projects associated with the World Cup.
"I have nothing to do with the workers," she said. "I think that's an issue the government -- if there's a problem -- should pick up." When asked if these deaths concerned her, she said, "Yes, but I'm more concerned about the deaths in Iraq as well, so what do I do about that?"
In other words, the situation in Qatar is somehow morally tenable because bad things happen in other places as well. Al Jazeera's journalists (some of whom have addressed labor conditions in Qatar honestly, but with much more delicacy than is due) have right under their noses one of the most extraordinary stories of the decade -- the reemergence of pharaoh, in the person of Qatar's emir. I wish them luck in their reporting.
This column does not necessarily reflect the opinion of Bloomberg View's editorial board or Bloomberg LP, its owners and investors.