Friday Baseball Blogging: How Should the Giants Handle Sandoval?
He's a good, not great player, coming up on a contract year.
by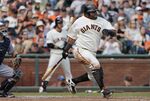 What should the Giants do with the Panda?
Pablo Sandoval only will be 27 this season (he turns 28 in August). He's a lifetime 127OPS+ hitter who swings at everything and has a history of weight and injury problems. And he's going to be a free agent after this season.
I'm hopelessly biased but it sure seems to me there's a win-win situation here. Sandoval isn't a player like Buster Posey (or Mike Trout), for whom the team has to absorb all the risk in a contract because, barring a catastrophe, the guy is going to become silly-rich once he becomes a free agent. If Sandoval can't stay healthy (which includes maintaining his weight), he could easily wind up on another team with a mediocre contract or, worse, out of baseball all together without ever making big money. A long-term deal, even a lousy one, would leave him more than set for life. That's still the case if he somehow bounces back to become an all-star level player this season and ends up leaving tens of millions of dollars on the table.
That should give the Giants a lot of leverage. If they don't want to use that advantage to sign Sandoval to an under-market deal for five (or so) years -- if they don't believe in the guy -- then the odds are some other team will be willing to pay (in a trade) for the opportunity to sign him.
How good could Sandoval be? The Baseball Prospectus predictor (subscription), which accounts for playing time, but not weight, spits out a list of comparable players including George Brett, Chipper Jones, Ron Santo, Bobby Bonilla, Ryan Zimmerman and Eric Chavez. Not bad. The predictor isn't all that optimistic, however, about his career. It estimates Sandoval will be a solid player this season (worth around three wins-above-replacement) and will tail off from there.
The team personnel should know quite a bit more than we do -- though they certainly should be informed by the numbers. But from what I can see, I'm hoping that the Giants take the risk and sign him.
This column does not necessarily reflect the opinion of Bloomberg View's editorial board or Bloomberg LP, its owners and investors.