Broncos-Patriots Is the New Yankees-Red Sox
Forget about Richard Sherman versus whoever happens to have beef with him that particular day of the week. Come fall, the only rivalry worth tuning in to will be Broncos versus Patriots.
by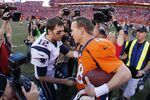 Forget about Richard Sherman versus Michael Crabtree, Sherman versus DeAngelo Hall, Sherman versus whoever happens to have beef with him on a given day of the week next season.
Come fall, the only football rivalry worth tuning in to will be Broncos versus Patriots.
After the first day of the National Football League's free-agency period, the Denver Broncos' spending spree had the rest of the league shaking in its collectively bargained boots. Twenty-two hours and $60 million in guaranteed cash later, the Broncos had signed strong safety T.J. Ward, edge rusher DeMarcus Ware and the formidable cornerback Aqib Talib, signaling to the football world that they're taking their embarrassing Super Bowl loss to the Seattle Seahawks very, very seriously. It was just Day One, and a team that was one win away from a ring last season loaded up on basically the three best free agents available.
Then came Day Two. Perhaps ESPN's Mike Greenberg said it best: "Only the Patriots could lose Aqib Talib and actually get better." That sound you heard was the NFL snapping back to its rightful place, as New England reminded the rest of football just who they're dealing with. The Patriots filled the huge hole left by Talib with the incredible signing of Darrelle Revis, arguably the best defensive player in the NFL.
If Denver was sending the message that it's prepared to win this year at all costs, putting all its eggs in Peyton Manning's basket, New England was responding with a stunning departure from the previously change-averse philosophy of coach Bill Belichick, who has long upheld the belief that the system trumps individual skill. If that's the case -- if the Patriots were so influenced by the recent success and trophy free-agent signings of their old foe's team -- then this wasn't just the moment that the team chose to deviate from plans that had worked so well since the start of the millennium. This was the moment the Peyton Manning-Tom Brady rivalry reached epic new heights, no longer bound by systems or philosophies or even franchises.
Mark it in your calendar: Day Two of 2014's NFL free agency was the moment when Broncos-Patriots became Yankees-Red Sox.
Now, it's not a perfect analogy, especially with the limitations of a salary cap. But the Broncos and Patriots have been pushing each other this offseason in ways reminiscent of the Yankees and Red Sox in the early 2000s. That era wasn't just the pinnacle of the Yankees' dynasty; it was the height of Red Sox futility. After watching New York bring home its fourth World Series title in five years, Boston expanded its payroll to more than $109 million in 2001, up from just under $78 million the year before, which put them basically on par with the payroll in the Bronx. Those numbers seem quaint today, but they highlighted a decade of one-upmanship in which the Yankees, with seemingly bottomless coffers, pushed their payroll -- and by extension those of their rivals -- ever higher.
After the Yankees lost to the Red Sox in the worst playoff collapse in history in 2004, they followed up with one of their worst offseasons ever, sinking boatloads of money into Randy Johnson, Tony Womack, and franchise laughingstocks Carl Pavano and Jaret Wright, putting their payroll on Opening Day in 2005 at a little under $206 million. In 2007, Boston thought it had scored a major victory over New York, winning the rights to negotiate with Japanese phenom Daisuke Matsuzaka for an unprecedented $51.11 million posting fee. More than seven years and $103 million later, we know how well that worked out.
By all accounts, Revis won't turn out to be a Pavano-level disaster, or a Matsuzaka-like bust. His stats took a hit last year in Tampa Bay, but most analysts think he can return to form under Belichick on a team that's built to win now. Both the Patriots and the Broncos are playing for the short term, with a window that's closing fast as their marquee quarterbacks -- Manning and Brady -- continue to age. And while John Elway has certainly made his no-holds-barred approach known in Denver as general manager, the uncertainty in New England surrounding Brady's top target, Julian Edelman, and defensive captain Vince Wilfork could mean that Belichick and the Patriots aren't ready to go all in just yet.
The offseason is far from over, and both teams still have a lot of decisions to make. Imprudent roster moves are the mark of a true rivalry, and you can bet that the front offices in Denver and New England will be keeping a watchful eye on each other.
This column does not necessarily reflect the opinion of Bloomberg View's editorial board or Bloomberg LP, its owners and investors.
(Kavitha A. Davidson is a Bloomberg View columnist who writes about sports. Follow her on Twitter at @kavithadavidson.)
To contact the author on this story:
Kavitha A Davidson at kdavidson19@bloomberg.net
To contact the editor on this story:
Toby Harshaw at tharshaw@bloomberg.net
Before it's here, it's on the Bloomberg Terminal.
LEARN MORE