Still Jonesing for Amazon Prime
For Amazon addicts, $99 is still a small price to pay for "free" delivery.
by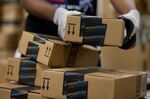 My household is among Amazon Prime's most devoted customers. There is nothing too small or cheap for us to order from Amazon, from paper towels to nuts and bolts. The United Parcel Service truck comes to our house so often that for a while I made my husband answer the door, for fear that our unusually young and attractive driver was getting the wrong idea. At just $79, for people who work from home, Amazon Prime is the best deal ever.
This morning, Amazon told us, in the words of Darth Vader: "I am altering the deal. Pray I do not alter it any further." Amazon Prime will now cost $99 a year. That's a 25 percent hike in one fell blow. Apparently fuel and other costs are just too high to leave it where it is.
And I suspect the result will be...not much. If you're using Prime enough to justify $79, then it's probably still a fantastic deal at $99. What this might tell us is that Amazon thinks it has some room to raise prices. Prime has never been a way for Amazon to make money; it was a way to get us to buy everything from Amazon. Now that we're addicted, it can afford to start charging more for the product. And like every addict, I'll be happy to pay.
(Megan McArdle writes about economics, business and public policy for Bloomberg View. Follow her on Twitter at @asymmetricinfo.)
To contact the author on this story:
Megan McArdle at mmcardle3@bloomberg.net
To contact the editor on this story:
James Gibney at jgibney5@bloomberg.net
Before it's here, it's on the Bloomberg Terminal.
LEARN MORE