Scott Brown Should Take the Money
Scott Brown's vacillation isn't helping him.
by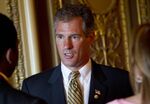 Scott Brown, the former shooting star of Republican politics, needs to study his Shakespeare: Hamlet was a lousy politician.
The former senator from Massachusetts, unseated in 2012 by Elizabeth Warren, has told associates recently that he will either: a) run in New Hampshire for the U.S. Senate; b) pass on running in New Hampshire and begin planning a bid for the presidency in 2016; c) bide his time for an opportune moment to run for office in his first home, Massachusetts; or d) forgo politics and focus on making money.
The betting odds favor him declaring for the New Hampshire race later this month.
Brown, who won a special election to replace the late Senator Ted Kennedy, has a second home in New Hampshire and for months has flirted with the idea of challenging incumbent Democratic Senator Jeanne Shaheen.
New Hampshire Republicans say Brown's candidacy looks likely. He has enlisted a Washington political consulting firm and a former top aide to New Hampshire's Republican Senator Kelly Ayotte to prepare for a campaign.
But his vacillation has been costly. Polls earlier this year showed a Shaheen-Brown matchup to be competitive. A Suffolk University-Boston Herald poll released last week, though, had Shaheen as a 13-point favorite.
The 54-year-old Brown has told some prominent Republicans that his real desire is to run for president, which isn't a notion that has galvanized supporters. He passed up running for office in Massachusetts this year, and there won't be another gubernatorial or senate election in the Bay State until 2018.
In the 2010 special election, Brown capitalized on a backlash against the imminent passage of the Affordable Care Act and won a race against an inept opponent. He now seems to be making the same miscalculation that has afflicted other surprise winners: assuming the victory was about him rather than the moment and the opponent.

This column does not necessarily reflect the opinion of Bloomberg View's editorial board or Bloomberg LP, its owners and investors.
To contact the author on this story:
Albert R Hunt at ahunt1@bloomberg.net
Before it's here, it's on the Bloomberg Terminal.
LEARN MORE