Kansas Star's Best Road to NBA Is the Bench
by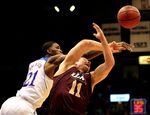 The college basketball season is building toward its annual climax, and we have no idea when — or if — we'll get a chance to see one of the NCAA's biggest stars.
I'm referring to University of Kansas freshman Joel Embiid, the 7-foot center from Cameroon. Embiid, who is 19, has only been playing basketball for a few years. (He grew up playing soccer and volleyball.) No one doubted Embiid's NBA potential when he arrived at Kansas, but he wasn't supposed to get so good, so fast. The Jayhawks coach, Bill Self, figured he'd have him for two, even three years. Embiid wasn't even a starter when the season began. But it didn't take long for him to shoot up NBA draft boards. Sure, he was still learning the game of basketball, but he was the rare big man who looked like a natural athlete on the floor.
When Embiid limped off the court on March 1, he had already made a strong case for himself as the No. 1 pick. And now? It's impossible to say for sure, but the NBA has a long history with expensive big guys who failed to hold up to all of the physical pounding — Greg Oden, Andrew Bynum, Sam Bowie, even Bill Walton, whose career was less than it could have been. It's hard enough being 7 feet tall when you don't play basketball for living.
Kansas initially described Embiid's injury as a "lower-back strain," and said he'd be fine for the post-season. But Self later acknowledged that the injury was more serious, a stress fracture to Embiid's lower back. The word now is that he will not only miss the Big 12 tournament this week, but also the first round of the NCAA tournament next week, and possibly more.
"We'll play him whenever the doctors and Joel's body and all that stuff is ready for him to play," Self said. "And I'm still very confident, as others are, that that is going to happen." Maybe it's that simple. Maybe Embiid will be 100 percent in 10 days. But we all know that back injuries can be tricky.
There's no reason to think that Self doesn't want what's best for his star center, but Embiid needs to remember that their interests aren't wholly aligned. It would be a different story if Embiid were in the first year of a hefty NBA contract; the team's natural inclination would be to keep him in street clothes out of an abundance of caution. The priority would be to protect its long-term investment. But Kansas's investment in Embiid is probably about to end. This is Self's last chance to use him, and he will want him to return as soon as possible, especially as Kansas gets deeper into the tournament.
Embiid is going to want to play as much if not more than Kansas wants to play him. But that doesn't mean it will necessarily be the right thing to do. Embiid doesn't have anything left to prove to NBA scouts. The priority for him now is to make sure he's healthy for his pre-draft physical in June. If that means sitting out his first and only NCAA tournament, then so be it. No one would blame him. Or at least no one should.
(Jonathan Mahler is a Bloomberg View columnist. Follow him on Twitter.)
This column does not necessarily reflect the opinion of Bloomberg View's editorial board or Bloomberg LP, its owners and investors.