Carl Icahn Can Cause a Government Investigation, Too
I'm now titling my novel of M&A "The Board Meets at Midnight." The sequel will be called "The Wire Instructions Were Sent at 1:07 a.m." And Joe Francis of "Girls Gone Wild" will direct the movie adaptation.
by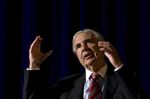 If you're writing a novel of mergers and acquisitions, you'd be hard pressed to find a better title than "The Board Meets at Midnight." That's a section header in this Securities and Exchange Commission order settling disclosure claims against Lions Gate Entertainment, and really the fun, or more accurately the not-at-all-fun, was just getting started. Lions Gate, a movie studio that was fending off a hostile tender offer from Carl Icahn, had a busy morning on July 20, 2010. The full timeline runs something like:
12:01 a.m.: Lions Gate's special committee meets, almost at midnight, to approve a convertible note exchange with Kornitzer Capital Management, exchanging around $100 million of out-of-the-money convertibles for new, at-the-money convertibles.

"immediately afterwards": the full board meets to approve the exchange.
1:07 a.m.: Kornitzer's lawyers send wire transfer instructions to Mark Rachesky, a hedge fund manager, Lions Gate director, former Carl Icahn protégé, and current Icahn enemy, who planned to buy the new convertibles from Kornitzer at about a 5 percent premium to their face value. "The Wire Instructions Were Sent at 1:07 A.M." would be a less dramatic but more representative M&A novel title.

1:47 a.m.: Lions Gate asks Kornitzer if it would be willing to exchange its old convertibles for new ones, 40 minutes after Kornitzer sent wire instructions for selling them, and an hour and a half after the board approved the exchange.

1:48 a.m.: Kornitzer says it's "amenable" to the exchange. Which seems sort of overdetermined? Obviously this was negotiated long before the 1:47 a.m. proposal.

4:00 a.m.: Kornitzer and Lions Gate sign the exchange agreement.

6:30 a.m.: Icahn announces a new tender offer for Lions Gate stock at $6.50 per share

by 9:30 a.m.: Rachesky buys the new notes from Kornitzer.

by afternoon: Rachesky converts the notes into Lions Gate stock at a price of $6.20 per share. Rachesky gets about 9 percent of the shares now outstanding, increasing his ownership from 19.99 to 28.9 percent and reducing Icahn's ownership from 37.87 to 33.5 percent.
One imagines the directors were tucked into bed by 12:10, 1 and that the long night was mostly for the lawyers.
The point of these transactions was to dilute Icahn and get more shares into friendly hands. Kornitzer's out-of-the-money convertibles were not doing anyone any good, and were soon coming due at par. By exchanging them for at-the-money convertibles, and then having them convert, Lions Gate would be issuing a lot more shares (and, sure, reducing debt). By moving them from Kornitzer's hands to Rachesky, and having Rachesky convert into stock, Lions Gate would be putting that much more shares into friendly hands. Kornitzer was happy: It sold its notes at a 5 percent premium. Rachesky was happy: He effectively bought shares at about $6.57, and they were trading above that price within two days. 2 And Lions Gate's board was happy: It had effectively sold 16.1 million shares to a friendly holder at $6.20, slightly above the last close, and used those shares to pay down debt.
Also of course it blew up Carl Icahn's hostile tender offer: That offer was conditional on Lions Gate repealing its poison pill, which in turn was dependent on Icahn winning a proxy fight, which did not happen:
At a shareholder's meeting on December 14, 2010, shareholders elected management's slate of directors and rejected the slate endorsed by the Shareholder. The margin of defeat for one of the five directors proposed by the Shareholder (who, if elected, would have occupied one of the Company's twelve board seats) was approximately 16 million shares — the same number of shares the Friendly Director obtained as a result of the July 20 Transactions.
That is cutting it close, I must say, but still, well done.
Was there anything suspicious about this? Quite a bit actually! Carl Icahn was suspicious, pointing outproblems with the exchange 3 and eventually suing for fiduciary violations. The New York Stock Exchange was suspicious, since you're really not supposed to enter into agreements to issue shares to related parties without getting stockholder approval. 4 And the SEC became suspicious enough to go after Lions Gate for being a bit light on its disclosure, eventually settling this case for $7.5 million and an admission of wrongdoing. (Icahn settled long ago, selling his stock to Lions Gate and Rachesky in August 2011 and dismissing his lawsuit.)
How was the disclosure? Mehhhh it was not great. Lions Gate smugly announced the transaction on the afternoon of July 20 in a press release not mentioning Rachesky or Icahn, and instead saying, "The transaction is a key part of the Company's previously announced plan to reduce its total debt, as well as its nearer term maturities." And it really did reduce total debt! Only one little problem:
Lions Gate had never announced a plan to reduce total debt prior to issuing the press release on July 20, 2010. Contrary to the statement in the July 20 press release, Lions Gate's prior public filings stated ... the Company was likely to take on more debt ...
The bar is pretty low, but really, if you're going to use a self-serving M&A tactic to prevent a hostile takeover, and claim that it was "a key part of the Company's previously announced plan to reduce its total debt," the one requirement is that you actually have a previously announced plan to reduce your total debt. 5 You can't just be like "oh, you know, that plan, the one we announced on Thursday? Remember? No? Hmm. You must not have been listening." There is a public record of this stuff.
The SEC lists a bunch of other disclosure failures, all of them basically related to the fact that "Lions Gate failed to reveal that the move was part of a defensive strategy to solidify incumbent management's control" and that "Lions Gate also represented that the transactions were not 'prearranged' with the management-friendly director, and failed to disclose the extent to which it planned and enabled the transactions with the expectation that the director would get the shares." 6
The lineup of celebrities floating around this transaction is sort of baffling. Icahn vs. Rachesky gets top billing, but then there is this monstrosity:

Lions Gate also asked that Mr. Icahn disclose information about a "side deal" he allegedly made with Internet entrepreneur Mark Cuban to induce him to accept Mr. Icahn's tender offer and sell his stake in the film studio. Lions Gate identified Joe Francis, creator of the "Girls Gone Wild" video series, as its source of information.

Because I guess if you have back-room tender offer machinations they might as well involve Carl Icahn and Mark Cuban, and if you want to know about them, Joe Francis is the obvious source of information? 7
Maybe some other celebrities here are Wachtell, Lipton, Rosen & Katz, Lions Gate's lawyers, 8 who tend to be good at mergers and acquisitions, and have a specialty in dealing with hostile takeovers. You'd have to give them some points for creativity in arranging this transaction to keep Icahn out of power, and by the thinnest of margins. But you'd have to dock a lot of points for the disclosure. 9 Roughly $7.5 million dollars worth of points. You're not supposed to lie about what you're doing in your disclosure! Especially in the middle of a hostile takeover battle with Carl Icahn! He tends to notice these things! And sue!
Still you can sort of see where they were coming from. Two basic rules of thumb in hostile takeover battles are:
everything management does is probably done in part as "a defensive strategy to solidify incumbent management's control," and

you don't really need to say that.

Because, for one thing, Carl Icahn will say it for you. (He did!) And because, for another thing, it's part of the background of cynical assumptions about all takeover battles: Management just wants to keep itself in power, while the hostile bidder just wants to make a quick buck by buying the company at below its fair value. Everyone knows these things. And if the cynical interpretation of a specific maneuver is hard to figure out, well, the adversarial process will solve the problem. Maybe not every shareholder could figure out what happened in this exchange, but Carl Icahn could, and he made a lot of noise about it.
Of course the SEC doesn't really regulate on the assumption that everyone reads disclosure as cynically as possible; its simpler goal is to have that disclosure be accurate. And while the adversarial process always ends in each side accusing the other of fraud and dishonesty, sometimes those accusations are actually true.
(Matt Levine writes about Wall Street and the financial world for Bloomberg View.)
To contact the author on this story:
Matthew S Levine at mlevine51@bloomberg.net
To contact the editor on this story:
Toby Harshaw at tharshaw@bloomberg.net
Before it's here, it's on the Bloomberg Terminal.
LEARN MORE