This Big Bank's CEO Delayed, Prayed and Turned Out OK
UniCredit just reported more than $20 billion in losses. What was it waiting for all this time?
by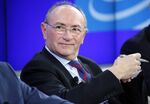 It turns out the old accounting game of delay-and-pray sometimes works, as much as it pains me to admit this, which is why many banks do it when they get in trouble. They usually don't like to talk about the game while it's in progress, and it often ends badly.