Why Sony's PlayStation 4 Win Is Really a Loss
Sony has had great success with its new PlayStation 4 game console. But is it becoming the leader in a dying market?
by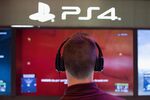 Sony is emerging as the leader in TV game consoles with its new PlayStation 4. The big question is whether the victory will prove Pyrrhic for a company that has already been losing ground in its traditional electronics business.

The new PlayStation is a clear improvement on its predecessor and a more loaded machine than its competitors, Microsoft's XBox One and Nintendo's slightly older, luckless Wii U. Introduced last November, it has already sold more than 6 million units worldwide -- a much faster pace than the PlayStation 3, which required a full year to sell 9.1 million units, according to data from VGchartz.
Problem is, Sony may be winning in a shrinking market. Video game software sales have been on the decline since 2009. In 2013, they amounted to $12.97 billion, down about 30 percent from four years earlier, according to the research company NPD. Even new-generation consoles from Microsoft and Sony have failed to reverse the slump, although Microsoft is trying hard with today's glitzy release of "Titanfall." Closings and job losses are increasingly frequent in the traditional game industry, leading observers such as Natasha Lomas of Techcrunch to argue that the whole console industry is in crisis.
This is not an easy phenomenon to understand, considering that the average amount of time Americans spend playing video games has doubled between 2002 and 2012. One explanation is that people are playing more on their smartphones and tablets, which some industry experts predict will soon become the "primary screens" for gamers. Indeed, 36 percent of American gamers already use their mobiles and tablets to play.
Still, mobile devices -- and the apps that sell best on them -- can't completely eclipse the immersive experience of console gaming. Some 40 percent of game consumers prefer multiplayer universes, action, sports, strategy and role-playing, but only 17 percent play these types of games on phones and tablets. No serious gamer would be caught dead playing something like"Flappy Bird" on a console. For many video-game addicts, playing on the phone on the train or during lunch break is nothing but a quick, inadequate fix. They still dream of getting back to their machines in the evening.
If the mobile explosion can't kill off the console industry, perhaps there are simply too many games already out for the market to absorb new content at pre-2009 rates. Games designed for the PlayStation 3, for example, still dominated sales as of the last week of February, accordingto VGchartz. The old Microsoft machine, Xbox 360, was the No. 2 platform. The industry may have stuffed the pipeline, creating a blockage that only major new hits can break through.

Whatever the reason, the shrinking of software sales could mean trouble for Sony. The less revenue there is to gain, the less developers will want to invest in new games that might dethrone the likes of "Grand Theft Auto" or "Call of Duty," which have reigned for years as the top global best-sellers. As a result, consumers may have less reason to buy PlayStation 4 or its successors.

(Leonid Bershidsky writes on Russia, Europe and technology for Bloomberg View. Follow him on Twitter at @Bershidsky.)
This column does not necessarily reflect the opinion of Bloomberg View's editorial board or Bloomberg LP, its owners and investors.
To contact the author on this story:
Leonid Bershidsky at lbershidsky@bloomberg.net
To contact the editor on this story:
Mark Whitehouse at mwhitehouse1@bloomberg.net
Before it's here, it's on the Bloomberg Terminal.
LEARN MORE