Why Sony's PlayStation 4 Win Is Really a Loss
Sony has had great success with its new PlayStation 4 game console. But is it becoming the leader in a dying market?
by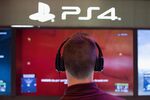 Sony is emerging as the leader in TV game consoles with its new PlayStation 4. The big question is whether the victory will prove Pyrrhic for a company that has already been losing ground in its traditional electronics business.

The new PlayStation is a clear improvement on its predecessor and a more loaded machine than its competitors, Microsoft's XBox One and Nintendo's slightly older, luckless Wii U. Introduced last November, it has already sold more than 6 million units worldwide -- a much faster pace than the PlayStation 3, which required a full year to sell 9.1 million units, according to data from VGchartz.