Union Boss and Pope Francis Aim at Wal-Mart
As far as AFL-CIO President Richard Trumka is concerned, Pope Francis has "changed the debate" on raising the minimum wage.
by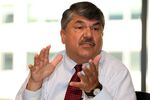 AFL-CIO President Richard Trumka praised Pope Francis for "changing the debate" on low-income wages and said there is pressure on retailers such as Wal-Mart Stores Inc. to follow the example Gap Inc. set by increasing the wages of its lowest paid workers.
Gap's recent announcement that it will boost the minimum pay for its workers this year to $9, and increase the rate to $10 next year, "gives a lie" to the claim that successful companies can't afford a higher wage, Trumka said at a breakfast this morning hosted by Bloomberg News.
For Wal-Mart, Trumka said, "Here's a chance to either follow suit or, if they don't, they'll pay a price." He charged the Bentonville, Arkansas-based retailer, America's largest employer, of working "behind the scenes" against congressional action for the higher federal minimum wage sought by President Barack Obama. The president wants to increase the minimum wage to $10.10 an hour from $7.25.
Trumka, however, said he was optimistic that the U.S. Senate will soon pass a bill increasing the federal minimum wage and, given the strong public support for such a measure, the Republican-led House may be forced to follow suit.
At the meeting, Trumka praised Pope Francis for playing an important role in the changing dynamics of the debate. The leader of the Roman Catholic Church has stressed the need for addressing income equality and improving wages for the working poor.
Trumka declared, "I'm proud to be a Catholic again."
This column does not necessarily reflect the opinion of Bloomberg View's editorial board or Bloomberg LP, its owners and investors.