U.S. Manufacturing Is Back. Sort Of.
Industry is returning to the U.S. -- just not the jobs people remember.
by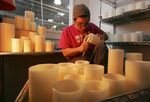 In a move sure to confuse anyone who remembers the warnings over the North American Free Trade Agreement, Ford Motor Co. says it will be moving production of its F-650 and F-750 pickup trucks from Escobedo, Mexico, to Avon Lake, Ohio. This may seem like a triumph for U.S. competitiveness, but as usual, the truth about modern American manufacturing is more complex.