Obamacare Enrollment Proves Whatever You Want It To
The latest Obamacare enrollment figures demonstrate that people are signing up at a healthy clip. Or they show that fewer and fewer people are signing up. Or they don't matter one bit.
by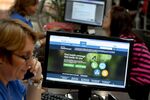 Pick your narrative: The latest Obamacare enrollment figures demonstrate that people are signing up at a healthy clip. Or they show that fewer and fewer people are signing up. Or the latest enrollment figures don't matter one bit.
You can't really go wrong with any of them. Start with the sunny view. As of the end of February, 4.2 million people had picked a health insurance plan on the exchanges. That means that if the federal government can sign up the same number of people this month as it did in December, it will hit the Congressional Budget Office's target of 6 million enrollees. That's a success, or something like it.
Now here's the less sunny view. The number of people who signed up last month was 943,000 -- fewer than signed up in January, and about half the number that signed up in December. So one month from the March 31 deadline for open enrollment, the monthly enrollment figures are moving in the wrong direction.

Moreover, the share of new enrollees in February who were age 18 to 34 -- the much-coveted youth category, which insurers need to keep costs low -- was 27 percent, the same as in January. The Department of Health and Human Services pretended to be happy about that 27 percent figure, but it's still well below the 40 percent they estimated last year to be necessary for keeping premiums low.

Finally, there's the view that nobody should care what February enrollment looked like. Not only is February an uncertain predictor of what will happen in March; March might not matter that much either.
That's because even after the March 31 deadline, people will keep signing up under what's called "special enrollment" periods, triggered by things such as losing a job, getting married, or -- and this is important -- having trouble signing up for coverage in the first place. So even if the enrollment total on April 1 is far south of 6 million, it should keep ticking up throughout the year.
Meanwhile, as my colleague Peter Gosselin of Bloomberg Government notes, the age distribution may not be as important as it seems either. Even if the Barack Obama administration falls well short of its goal of about 40 percent of enrollees being young, what matters is the assumptions insurers made in setting their premiums. If insurers guessed the 40 percent figure was too rosy, then missing that threshold won't hurt premiums.
And what if everything still goes wrong -- if enrollment remains far short of target months from now, and if the age balance is far enough off to drive up premiums? Then the provisions in the law tenderly known as the three R's -- risk corridors, risk adjustment and reinsurance -- kick in to stabilize premiums, at little or no cost to taxpayers.
I'm partial to the final interpretation, but let's finish with a note of caution. The worst-case scenario for Obamacare enrollment isn't that premiums go up because the risk pool was worse than expected. Rather, it's that Democrats overestimated the demand among Americans, and particularly young Americans, for insurance coverage that's both less generous than employer-based plans and more expensive than the plans prohibited by the law.
There's no reason yet to think that's happening. It's possible that the number of young people who've signed up for so far -- a little over 1 million -- will double, or more, by the end of open enrollment. If not, it's possible the tax penalty will persuade more of them to sign up next year.
But after five months of open enrollment, the level of demand among young Americans to buy subsidized health insurance remains unclear. The answer to that question matters a lot more than what happened last month.
(Christopher Flavelle is a member of Bloomberg View's editorial board. Follow him on Twitter at @cflav.)
This column does not necessarily reflect the opinion of Bloomberg View's editorial board or Bloomberg LP, its owners and investors.
To contact the author on this story:
Christopher Flavelle at cflavelle@bloomberg.net
To contact the editor on this story:
Stacey Shick at sshick@bloomberg.net
Before it's here, it's on the Bloomberg Terminal.
LEARN MORE