Missing Plane Has Chinese Flying Scared
This is not China's first experience of air tragedy. But after four days without any sign of the plane or clues as to what may have happened, the utter lack of information has rendered it the most agonizing.
by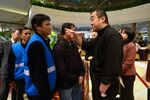 It's been a rough two weeks in China. On March 1, knife-wielding terrorists killed 29 people and injured more than 140 at a train station in Kunming, capital of southwestern Yunnan province. That event, quickly dubbed "China's 9/11," was still on everyone's mind when, Saturday morning, the country woke to news that Malaysia Airlines Flight 370 had gone missing en route to Beijing from Kuala Lumpur. Of the 227 passengers on board, 152 were Chinese.
This isn't China's first experience of air tragedy. But after four days without any sign of the plane or clues as to what may have happened, the utter lack of information has rendered it the most agonizing.
The emotional fatigue is well summarized in a post that's been circulating in various forms on Chinese social media. It makes reference to the fruitless multinational search for the plane's wreckage, China's state-owned CCTV television network, and the Lido Hotel in Beijing, where the kin of the flight's passengers have gathered for briefings.
"Vietnam has found something ... Malaysia denies it ... the Chinese rescue is on the way ... experts are analyzing ... everyone is kept guessing ... CCTV refutes rumors ... microblog posts are deleted ... families gather at the Lido ... the aircraft has not been found ... repeat?"
To understand the crash's deep emotional resonance in China, remember that this is the first major accident to take place in the era of mass Chinese air travel. In 2012, for example, air passenger traffic was up 9 percent in China, to 296 million travelers; the International Air Travel Association projects that China alone will account for almost a quarter of global air passenger growth by 2017. Those numbers are driven by middle-class Chinese, many of whom are able for the first time to envision themselves on Malaysian vacations of the sort that some of Flight 370's passengers had enjoyed.
Predictably, Chinese media -- whose journalists mostly belong to that middle class -- has adopted a wall-to-wall approach to covering the MH370 mystery. News conferences, reports of President Xi Jinping's worried midnight phone calls, and Instagrammed messages of hope for the passengers (as depicted in slideshows) receive coverage. Occasionally, this outpouring conflicts with the state media's obligation to cover -- intensively -- China's agenda-setting National People's Congress, which went into session last week in Beijing. Thus People's Daily, the flagship newspaper of the Communist Party, has relegated the crash to a below-the-fold event.
At the same time, the newspaper has devoted an entire, constantly updating, multimedia-rich Web page to the crash, which can be accessed via a link from its home page. Likewise, China's flagship CCTV evening news program has assigned significant, top-of-the-news coverage to the story, as has almost every other Chinese news outlet.
Not all the stories have been completely unhindered, of course. Chinese media have largely avoided speculating about the causes of the disappearance. This was probably dictated by China's Central Propaganda Department. The government appears particularly reluctant to suggest any connection between the disaster and Uighurs from far western China, whom the government has blamed for the Kunming train station attack. According to the New York Times, CCTV even "issued a passenger list from the Malaysian airliner on which the name of the only Uighur on the flight was blacked out." This clumsy effort to withhold information underestimated the newsgathering abilities of the Chinese public, and only fueled further rumors.
Indeed, any Chinese with a mobile phone (and that's a lot of Chinese) can tap a social media app to find reasonable and occasionally prominent voices speculating about the possible role of terrorism, and Malaysia's allegedly lousy airport security, in the disappearance. Similarly, there has been no lack of voices who noticed that the U.S. managed to deploy a warship to help in the search days before China did. Chinese leaders noticed, too: On Sunday, an official attending the National People's Congress urged China to build up its search-and-rescue capabilities in the South China Sea -- which is likely to unnerve at least some of China's neighbors.
Ultimately, though, the conversation about the crash has been characterized more by poignancy than politics. Messages of hope remain the most common Flight 370 posts on Sina Weibo, while discussions of past crashes -- especially Air France 447, which disappeared over the Atlantic in 2009 -- allow those who need answers to find some semblance of them as an armada of planes and ships continues to comb the South China Sea.
(Adam Minter is a regular contributor to Bloomberg View based in Shanghai and the author of "Junkyard Planet," a book on the global recycling industry. Follow him on Twitter at @AdamMinter.)


This column does not necessarily reflect the opinion of Bloomberg View's editorial board or Bloomberg LP, its owners and investors.