view
Jos. A. Wearhouse Is Almost a Reality
Really, there are a lot of less endearing companies to have a protracted and exciting takeover battle than these two. I'll miss you, JOSB and MW!
by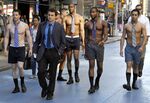 On Oct. 8 of last year, Men's Wearhouse stock closed at $35.24 and Jos. A. Bank closed at $41.66. The next day, Jos. A. Bank announced a proposal to acquire Men's Wearhouse, which was for many people the first indication that they were in fact different companies. Time passed. Events transpired. We all grew a little older and wiser. Suits were sold, some of them, I'm assured, at Men's Wearhouse.
Today Men's Wearhouse announced that it had signed a deal to acquire Jos. A. Bank for $65 a share. This afternoon Men's Wearhouse closed at $57.32 and Jos. A. Bank at $64.22. If you're fairly literal about stock prices reflecting corporate value, then it looks like this combination has created some $1.4 billion of shareholder wealth in five months. 1 So, nice work everybody!

You can do some dopey arithmetic about how those gains are shared between the companies' shareholders, and with Golden Gate Capital, which has lurked around the deal from the beginning and is now in line to get a $48 million breakup fee because Jos. A. Bank is walking away from its deal to buy Golden-Gate-owned Eddie Bauer. Just going by stock prices, my dopey arithmetic shows that Men's Wearhouse gets about 60 percent of the value, versus 37 percent for Jos. A. Bank. Here's how that compares to Jos. A. Bank's original proposal to buy Men's Wearhouse, and Men's Wearhouse's original proposal to buy Jos. A. Bank: 2
Basically, Jos. A. Bank's original plan seems to have split the value created by the deal roughly evenly between Jos. A. Bank and Men's Wearhouse, with Golden Gate also getting a cut for investing $250 million to help fund the deal. 3 Men's Wearhouse's original plan gave Men's Wearhouse's shareholders the bulk of the value created by the deal, and cut Golden Gate out entirely. The final deal seems to allocate value roughly in line with the companies' pre-deal market caps, and cuts Golden Gate back in for $48 million to drop its Eddie Bauer deal.
In the past, I have made fun of Jos. A. Bank's board of directors. The words "economically irrational" may have been thrown around, and it's possible that there were some subtle insinuations of unstylishness and indoorsiness. So I guess it's worth admitting I was wrong about the "economically irrational" stuff. They got a great deal for shareholders. Really, that chart looks like a model negotiation: Jos. A. Bank started out with something very favorable to its shareholders, Men's Wearhouse countered with something very favorable to its shareholders, there was some shouting and chest-pounding and just the tiniest bit of suing, and at the end of the day, they reached a deal that seems more or less fair to everyone. Even Golden Gate got a tip for its trouble.

So it's pretty easy to tell a story of two totally engaged public company boards working diligently and creatively to complete a value-enhancing deal in the way that is most favorable to their own shareholders.
It's also easy to tell the opposite story! And in some ways it's more tempting. When Jos. A. Bank announced its desire to take over Men's Wearhouse, everyone said, yes, okay, this is the most obvious merger in the world, get it done. And Men's Wearhouse said no, in what looked to a lot of people like a classic case of board and management entrenchment. "Men's Wearhouse's board erected defensive measures that we believe are against the best interests of shareholders," said one of its biggest shareholders. The obvious explanation was that Men's Wearhouse's management didn't want to go work for, or be fired by, their smaller rival.
And then Men's Wearhouse unveiled its Pac-Man strategy of trying to buy Jos. A. Bank, and Jos. A. Bank said no in what looked like, you know, a classic case of board and management entrenchment. Men's Wearhouse even got to use Jos. A. Bank's previous enthusiasm against it, noting that Jos. A. Bank's chairman had once said "that he '[has] always admired Men's Wearhouse' and believes that a combination of JOSB and TMW 'will create continued growth and sustainable value' for stockholders, 'greatly enhance benefits' for customers, and result in 'exciting opportunities' for employees," but was now opposing the deal. 4
And then Jos. A. Bank unveiled its strategy of signing up an extremely silly-looking deal where it would buy Eddie Bauer, which did not seem like a natural fit, and also sell stock at $56 in order to buy back stock at $65, because that is what you do when you are desperately clinging to independence at the cost of hosing your shareholders.
Or: That is what you do when you're trying to get more money for your shareholders, and you've decided that a little tactical crazy is the way to do it. Mutter to yourself, twitch, bark a little; the other side won't know what to do, and will just give you a little extra money to end their confusion. "We'll never persuade these people with logic, they are selling stock at $56 to buy it at $65!" That sort of thing.
There are basically two traditional ways to get more money in a merger deal, which are (1) run a competitive auction in which several potential buyers bid against each other and (2) bluster. Option 1 wasn't really available here; these two companies were made only for each other. And the traditional bluster only gets you so far: Shouting that an above-market offer is inadequate and coercive starts to get old if no better deal comes along. Unless a worse deal comes along. It turns out a worse deal, and a plausible threat of doing it, is exactly what Jos. A. Bank needed to get a better deal for its shareholders.
(Matt Levine writes about Wall Street and the financial world for Bloomberg View.)
To contact the author on this story:
Matthew S Levine at mlevine51@bloomberg.net
To contact the editor on this story:
Toby Harshaw at tharshaw@bloomberg.net
Before it's here, it's on the Bloomberg Terminal.
LEARN MORE