Florida Special Election Will Tell Us ... Not Much
No predictor of the November midterms.
by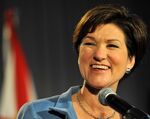 There is a special election in Florida's 13th House district today. Alex Sink, the Democratic candidate, may be a very slim favorite to win.
We shouldn't make too much of this race. Every House election is important, and contests for competitive seats are especially big deals. But that's all. The outcome in Florida won't predict the November midterm elections; nor will it tell us (especially in the raw numbers) about the effect on voters of Obamacare or any other issue.
Listen to Greg Sargent and Ed Kilgore walk away from the hype.
House elections are driven by many things: district partisanship, the candidates, the president's popularity. But also the campaigns, which include the ads, get-out-the-vote efforts, issues, media coverage and more.
If Sink wins by, say, 2 points, that would tell us nothing by itself about the effect of the huge Obamacare-based attacks against her. Maybe without them, she would win by 6 points. Or maybe what mattered was the volume of he attacks, not the subject. Even with exit polls and serious academic surveys, this kind of certainty is very difficult to pin down. One election, without that data? We have to accept that we won't know what effect anything had.
Not to mention that not all voters are alike. Even if we knew that FL-13 special election voters were unmoved by ACA attacks, we wouldn't be able to guess how a general-election electorate in other districts will react months later. And with the ads at a much lower volume.
This isn't a bellwether or an indication. It isn't predictive. It's just one election.

This column does not necessarily reflect the opinion of Bloomberg View's editorial board or Bloomberg LP, its owners and investors.