February's Middling News for Obamacare
Enrollment in Obamacare seems to have held steady at roughly its January pace. But it was supposed to accelerate. 
by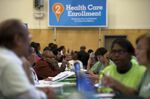 The administration has released its latest enrollment report, covering enrollment up to March 1. Here's what you need to know:
By the beginning of the month, 4.2 million people had selected a plan. But that doesn't mean they have insurance. Reporters on a conference call asked about the number who had paid, and the administration's representatives said they don't know. They didn't dispute estimates from surveys that showed about 20 percent are not paying. But they didn't confirm them, either. If the 20 percent attrition rate holds, then as of March 1, about 3.4 million had actually paid for insurance. That would put the administration about 2.3 million behind their September projections.
February enrollment was about 942,000. That's about 33,650 a day, slightly below the January pace. It's also well below the 1,271,880 the administration was projecting for February -- a reversal after January's totals actually exceeded projections for the first time.
In February, 27 percent of the customers were ages 18 to 34. That's slightly better than previous months, but not nearly enough to improve the overall demographics of the insurance pool. Before enrollment began, the administration said it needed about 40 percent of customers to be young adults. Even after February's improvement, the total percentage of young adults in the pool is still just 25 percent.
The administration says it's hopeful that the pace of enrollment will accelerate in March, based on the experience of Romneycare in Massachusetts. But as you can see in this chart posted by my colleague Ezra Klein in January, by this stage in the enrollment process, signups by young healthy people had already ramped up much more significantly than we've seen in the national exchanges. In fact, to go by the Massachusetts experience, we should have seen Young Invincible enrollment peak in February. If 27 percent is the peak, the exchanges are in big trouble.

The administration says it's optimistic that millions more will sign up for insurance by the end of March. The Congressional Budget Office recently projected 6 million people would sign up for exchange policies in 2014. Depending on the attrition rate, it will take 2 million to 3 million signups in March to reach that figure. For that to happen, daily signups in March would need to be double or triple the number we saw in February.
Overall, it's not a completely awful report: Enrollment seems to have held steady at roughly its January pace. However, it was supposed to accelerate.
Even more worrying is the lack of significant improvement in the demographics. Unless we get a huge rush of young people signing up at the last moment -- which is entirely possible -- the insurance pool is going to be much older than expected, and that probably means it will be much more expensive than projected. In that event, either the federal government will have to make big payments to insurers through its risk-adjustment programs, or the price of policies will probably rise significantly next year.
This column does not necessarily reflect the opinion of Bloomberg View's editorial board or Bloomberg LP, its owners and investors.