A Missing Plane and a Stolen Passport Mystery
The safety of air passengers isn't just the responsibility of governments with limited accountability. It also belongs to airlines with financial interests in being perceived as safe.
by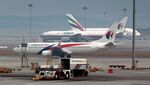 There are 40 million stolen passports in Interpol's Stolen and Lost Travel Documents database in Lyon, France, including at least two that were used to board ill-fated Malaysia Airlines Flight 370 early Saturday morning. Naturally, speculation about what might have caused the plane's disappearance has fallen on the two people who boarded with those passports. Did they carry out a terrorist strike? Or, like the other 237 passengers and crew on the flight, were they also victims? An urgent global law enforcement effort is currently focused on determining the answers to those questions.