Want to Shut Down LeBron? Give Him Sleeves
There's little debate over just how hideous the NBA's sleeved jerseys are, but now questions are being raised over whether they hinder one's shooting.
by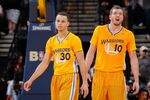 There's little debate over just how hideous the NBA's sleeved jerseys are, but now questions are being raised over whether they hinder one's shooting.
After LeBron James posted his second-worst shooting performance of the season last night, the Miami Heat star suggested that the sleeves had affected his play.
"I'm not making excuses, but I'm not a big fan of the jerseys," James said following his team's 111-87 loss to the San Antonio Spurs. "Every time I shoot it feels like it's just pulling right up underneath my arm. I already don't have much room for error on my jump shot. It's definitely not a good thing."
It's too small a sample to derive any definite conclusions, but James' shooting stats in the three games in which he wore the sleeved jerseys aren't pretty. Thursday night against the Spurs, he shot 6-for-18 from the field including 0-for-3 behind the arc. He fared better in the Christmas Day game against the Los Angeles Lakers, going 7-for-14 from the field, but still failed to sink a single three-pointer in four attempts. Similarly, in this year's All-Star Game, he shot 11-22 but went 0-for-7 in threes. This is a guy who is shooting nearly 58 percent from the floor on the season and just came off a ridiculous 61-point performance in which he nailed 22 of 33 shots and 8 of 10 threes.
James isn't alone in his sleeve disdain. In a poll conducted last month, Bleacher Report found that 19 of 21 players surveyed were against the jerseys. "I think our sport is tough to have stuff on your shooting arm with shooting being so key," an unnamed center said.
The issue of a uniform hindering performance was in the spotlight last month, when the U.S. speedskating team wondered if its incredibly poor showing was due to its new Under Armour suits. As we saw then, it doesn't really matter if the clothing actually affects play -- the perception that it might is simply enough. Athletes are such creatures of habit that any change to their routine could throw them off. Just the thought that a speedskating suit can slow you down or a sleeve can constrict your shooting arm could impact one's state of mind.
Unfortunately, don't expect the NBA to revert to its previous, fully sleeveless state anytime soon. As the league and sponsorship partner Adidas had hoped, the jerseys are selling extremely well, perhaps validating their initial reasoning that no matter how ugly, sleeved merchandise is more socially acceptable and can be worn when going out. (To where, I have no idea.) As such, the NBA has chosen to feature the sleeves in most prominent and marketed events, such as Christmas contests, the All-Star Game and the Noche Latina series.
It should be noted that the NBA players' union reportedly receives half of all merchandise sales, and thus has a stake. Sal LaRocca, executive vice president of global merchandising for the NBA, insists that if the players are really unhappy, the league will cease to use the jerseys in games. I guess we'll see if the union decides a few extra million dollars is more important than its members' shooting percentage.
This column does not necessarily reflect the opinion of Bloomberg View's editorial board or Bloomberg LP, its owners and investors.