The SEC Is Wasting Its Time on Dewey & LeBoeuf
Dewey & LeBoeuf executives said they were looking for a clueless auditor, and it looks like they got one in Ernst & Young.
by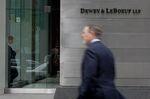 Here's a quote from an e-mail that must be causing some pain and discomfort at the Big Four auditing firm Ernst & Young LLP: "Can you find another clueless auditor for next year?"
It was sent in 2009 by Joel Sanders when he was chief financial officer of Dewey & LeBoeuf LLP, according to court papers filed today. Ernst had recently fired the partner in charge of Dewey's audit, for reasons unrelated to the audit work. The underling to whom Sanders sent the e-mail, Francis Canellas, replied: "That's the plan. Worked perfect this year."
Sanders is one of four former executives of the now-defunct law firm whose indictments on fraud and grand-larceny charges were unveiled today by Manhattan District Attorney Cyrus Vance. Canellas wasn't charged criminally, but he was among the defendants sued today by the Securities and Exchange Commission in a separate civil complaint.
Ernst, which used to be the auditor at Lehman Brothers Holdings Inc., wasn't accused of any wrongdoing. But tradition holds that when the stench of accounting fraud surfaces in a high-profile business collapse, it's the job of journalists to wonder aloud: Where were the auditors? So there, I did the deed. Prosecutors say the accounting fraud at Dewey began in 2008; the firm filed for bankruptcy in 2012.
Auditors have long complained that investors expect too much of their work. The public expects them to at least try to detect accounting fraud. Otherwise, what good are they? But it has become evident over the years that accountants generally aren't good at catching fraud at companies that pay them for their opinions. Maybe the money has something to do with it.
Normally you don't see criminal cases over accounting frauds at law firms. However, Dewey sold $150 million of bonds through a private placement in 2010 to help pay its bills. That explains how the Dewey affair went from a story about a dead law firm with bad bookkeeping to one about the former bosses of an allegedly criminal enterprise being indicted on securities-fraud charges.
I don't doubt that the SEC had the authority to sue in this case. But I was a bit surprised that it did. Last July, the SEC made a big fuss about its decision to form a new "financial reporting and audit task force." I had hoped this meant the SEC would finally start cracking down again on accounting fraud at public companies, which has been a low priority for years.
What I didn't expect was a splashy accounting-fraud lawsuit over a law firm that never even filed financial statements with the SEC. This seems like a matter that the commission could have left to the able lawyers at the Manhattan D.A.'s office -- unless maybe the SEC was going to sue Ernst, which it didn't.
But perhaps I'm being too picky. The SEC did quote that revealing e-mail in its complaint. So now we have an insight into what the people who were allegedly cooking Dewey's books thought of their auditor, Ernst & Young, while they were allegedly doing it. That quote was a good deed. Now go forth, dear SEC, and please find an accounting-fraud case that matters to investors.
(Jonathan Weil is a Bloomberg View columnist. Follow him on Twitter at @JonathanWeil.)

This column does not necessarily reflect the opinion of Bloomberg View's editorial board or Bloomberg LP, its owners and investors.