The Growth Killers
Still living with the consequences of the financial crisis.
by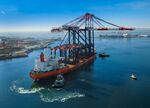 Along with deleveraging and tapering by the Federal Reserve , protectionist threats and greater regulation will probably hamper economic growth in export-dependent developing countries and the developed nations that are their main customers.

U.S. exports are also at risk. Spending by the U.S.'s trading partners is muted when their economies are weak and threatened by deflation, as they are now. U.S. exports have increased in relation to gross domestic product, but imports also rose after the 2007-2009 recessionary retrenchment by U.S. consumers. The trade deficit has increased on balance in this recovery, though it's about half what it was in the pre-recession years. Now, U.S. exports are further threatened by rapidly weakening emerging economies such as Brazil, India, Indonesia, South Africa and Turkey.
Rising protectionism is another threat. When domestic growth is subpar, countries look to overseas markets to spur the economy . In 2010, President Barack Obama set a goal of doubling U.S. exports in five years, though he didn't specify which countries would do the buying. All nations want to export goods and none want to import, so protectionism is often a way to make exports cheaper and imports more expensive.
There seldom is a winner when countries engage in tit-for-tat protectionism, but that's no deterrent. Current examples abound: Japan is trying to push down the value of the yen; France cut corporate taxes to reduce export costs and prices, and recovered the lost government revenue by raising the value-added tax. This discourages imports because the cost is added to prices; it encourages exports because the tax is subtracted from the cost of goods. Greece can't devalue because it is tied to the euro currency, but it has devalued internally by cutting wages by a third since the beginning of its financial crisis.
Indonesia, which supplies one-third of the world's tin, recently instituted protectionist measures to control the market and push up prices. It outlawed the export of tin ingots that aren't traded on its commodity exchange, and it has limited foreign ownership of tin mines. Japan's deliberate depreciation of the yen could lead to retaliation by South Korea.
Meanwhile, the Doha round of trade negotiations, initiated in 2001 under the auspices of the World Trade Organization, is essentially dead. And hopes of concluding the Trans-Pacific Partnership continue to be thwarted by disputes over tariffs on agricultural and other goods, particularly between the U.S. and Japan.
More limited bilateral and regional trade deals are under consideration. South Korea has agreements with the European Union and the U.S. In July, Taiwan and New Zealand signed a pact. Canada and the EU are close to a deal, and Taiwan and Singapore signed one in November. In December, U.K. Prime Minister David Cameron called for a free-trade deal between the EU and China.
In the wake of the financial crisis and the recession, financial institutions around the world were vilified. The near-meltdown of 2008 brought an era of financial regulation that will persist and will limit the flexibility, scope and profitability of major banks and other large financial companies.
Nonetheless, the Securities and Exchange Commission is winding down many of its crisis-related cases. It has worked through most of the big ones, including the multibillion-dollar settlement with JPMorgan Chase & Co. related to troubled mortgage-backed securities, as well as one involving Citigroup Inc., Goldman Sachs Group Inc., JPMorgan Chase, Merrill Lynch & Co. and Mizuho Financial Group Inc.
But that doesn't mean the hunt for bad guys is over. SEC Chairman Mary Jo White plans to pursue more individuals and seek bigger fines. For the securities watchdog, nailing individuals and ruining their reputations may be more effective than pursuing large companies, which are able to pay fines and move on.
And the reach of regulators extends well beyond big fines. They are considering whether huge asset managers such as BlackRock Inc., Pacific Investment Management Co. and Fidelity National Financial Inc. should be included with big banks in the list of "systemically important" financial institutions that require greater scrutiny. Those asset managers could be subjected to runs by frightened investors in times of economic distress. The SEC also is moving to oversee advisers who work with municipalities on bond and other transactions.
The EU wants money-market funds to hold more reserves. Furthermore, EU finance ministers are drafting rules for winding down troubled banks that would force stock- and bondholders to take a hit before any taxpayer bailouts are approved. The EU plan also would require banks to contribute to a 55 billion-euro ($75.5 billion) bailout fund.
In the U.K., Royal Bank of Scotland Group Plc, which is 81 percent government-owned, is being forced by the government to sell its U.S. retail bank, RBS Citizens Financial Group Inc. RBC Chairman Ross McEwan recently announced a $15 billion net loss for 2013, along with a restructuring that cuts $8.3 billion in costs over four years.
There is a risk that regulators will overreach and that banks become so constrained that they can't perform their normal functions of providing necessary financial services. Risky activities would be pushed to less regulated hedge funds and other "shadow banking" operations.
A further complication is that the implementation of new regulations isn't complete. Only 39 percent of the Dodd-Frank financial-reform legislation's provisions were put in place on schedule, by July 2013. Meanwhile, the Volcker Rule, which prohibits banks from trading for their own accounts, could eliminate as much as $10 billion in annual pretax profit for the eight largest banks because of revenue reductions and higher compliance costs.
Almost all developing countries depend on exports to spur growth. And most of those exports, directly or indirectly, are bought by Americans and Europeans. As a result of slow growth in the U.S. and Europe, the rate of spending by developing nations, including on goods for export, has slowed, too. Export-led growth is over, at least for now.
This has made foreign investors in those emerging markets skittish, as we saw in January, when flight from risk caused equity markets to tumble. Countries with substantial current account surpluses -- South Korea, Malaysia, Taiwan, Mexico and the Philippines -- can use those cushions to withstand and discourage outflows. But those with big trade deficits, such as Turkey, India, Indonesia and Brazil, are vulnerable.
Brazil suffers from weak commodity exports, excessive bureaucracy, underinvestment, price controls on items such as electricity and gasoline, and a lack of innovation. India is bogged down by lack of investment in infrastructure, its socialistic income-redistribution programs, political squabbling, corruption, slow growth and inflation. Russia hasn't delivered meaningful reform of its bloated state sector or provided promised help for private companies. Last year, the government cut its growth forecasts four times, to a historically low 1.4 percent, from 7 percent before the recession.
Some countries are in much better shape. South Korea's economy is solid in terms of GDP per capita and many other measures. And Mexico is carrying out widespread reforms. President Enrique Pena Nieto 's "Pact for Mexico" aims to eliminate the 76-year-old prohibition on foreign ownership in the petroleum industry. He also is enacting reforms such as the breakup of powerful teachers' unions, instituting changes to telecommunications that should break the monopoly of Carlos Slim, and introducing high income taxes on the rich.
China is struggling to shift from an export- and capital-spending-led economy to one fueled by consumer spending. One strategy is to get households to save less, but measures such as the creation of pay-as-you-go pension plans may take longer than expected because economic growth is slowing.
Among developed countries, the U.S. seems best-positioned. In Europe, the recent calm in the financial markets has eased the pressure to enact serious reforms, and weaknesses remain. The meager recovery in the euro area in 2013 was driven by exports, not domestic demand, which remained weak, and continued slow growth won't reduce record-high unemployment. With inflation running at less than 1 percent, deflation looms.
The U.K. looks somewhat better. The government's austerity measures lowered state spending, slashed its share of employment and reduced its role in the economy in the hopes that a more productive and responsive private sector would offset the cuts. The strategy appears to be working. In 2013, real GDP grew 1.8 percent, and business investment appears to have been revived.
In Japan, Prime Minister Shinzo Abe has spent the 15 months since his election trying to revive the country's moribund economy with huge purchases of government securities by the central bank, substantial government spending and structural reforms. In early December, the parliament approved a $53 billion stimulus package, and the Bank of Japan is considering whether to increase its $70 billion-per-month program of purchases of government securities. The stock market rose 57 percent last year, while the yen lost a quarter of its value against the dollar. But fourth-quarter GDP growth was less than half of what had been expected.
(Gary Shilling is a Bloomberg View columnist and president of A. Gary Shilling & Co. He is the author of "The Age of Deleveraging: Investment Strategies for a Decade of Slow Growth and Deflation." This is the second in a four-part series. Read Part 1.)
This column does not necessarily reflect the opinion of Bloomberg View's editorial board or Bloomberg LP, its owners and investors.