Who Killed Ukraine's Heavenly Hundred?
Vladimir Putin must prove to Ukrainians that Russia was not involved in the deaths of Kiev protesters. 
by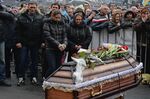 The downfall of President Viktor Yanukovych was a victory to many Ukrainians, but it came at a high price: the death of 98 people, according to the Ukrainian health ministry. Who exactly killed most of them is a mystery that has given rise to a propaganda war between Russia and the new Ukrainian government.