Rangers and Lightning Swap Captains, Everybody Freaks Out
The Tampa Bay Lightning just traded Martin St. Louis to the New York Rangers for Ryan Callahan and two draft picks. Someone better go check on Phil Esposito.
by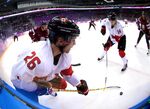 Someone better go check on Phil Esposito.
With the NHL trade deadline looming, the New York Rangers and Tampa Bay Lightning completed a blockbuster deal Wednesday, sending Martin St. Louis to Broadway in exchange for Ryan Callahan and two draft picks. With the first trade in NHL history to swap captains, fans from both sides of the aisle are predictably losing it, as Esposito did last week when whispers of the trade began to surface.
It's easy to see why Lightning fans are upset with losing a franchise player who's been with the team since the start of the millennium, helped them win a Stanley Cup, and also happens to be the reigning Art Ross winner for total points. Those Rangers faithful that are lamenting the loss of their captain, however, need to take a step back and evaluate this trade without letting their emotions get in the way.
Yes, Callahan is a gritty player, the heart and soul of a Rangers team built on body sacrifice and grind. And yes, on the surface trading a 29-year-old and two high-round picks for a 38-year-old seems shortsighted. That's because it is: New York's front office clearly made this move with its eyes on the cup for this season and next -- and that's okay. The Rangers currently sit in third place in the conference, behind the Penguins and Flyers, and the addition of the NHL's leading scorer last year propels a fledgling offense, currently 19th in the league, to among the elite top-sixes in the East. St. Louis will presumably play on Brad Richards's line, reuniting former teammates who helped bring a title to Tampa Bay in 2004.
As for age, St. Louis is showing no signs of decline. He's still a point-per-game player, currently boasting 61 through 62 games, including 29 goals, 32 assists and an impressive plus-12. He's eighth in the league in scoring; for reference, the next-highest Ranger is Brad Richards, whose 44 points places him 55th. Meanwhile, the 29-year-old Callahan has seen his offensive output diminish since its peak in the 2011-12 season. He's scored 25 points through 45 games this season, with just 11 goals, 15 assists, and an anemic minus-3. His leadership is all about heart, but that internal fire has external consequences. His admirable tendency to play beyond his size makes him a significant injury risk; Callahan has had to sit out 17 games this season with injury. By comparison, St. Louis has missed seven games total since the start of the 2002-03 season.
All of that takes a backseat to the fact that Callahan's days in New York were clearly numbered. The Rangers drew a hard line in their contract negotiations with him, refusing to go above $6 million a year, a nice change in tune by a front office that hasn't been shy at throwing money around for a quick fix without thinking about its long-term cap hit. Callahan is reportedly asking for seven years, $6.75 million per -- a high price to pay in the long-term for a declining player. The Lightning are unlikely to meet that price tag, so as far as sheer production goes, they ultimately come out on the short end of a short-term deal.
The good news for Tampa Bay is that in dealing its second-best player, a future Hall of Famer who had made it clear that he wanted out, Lightning general manager Steve Yzerman got more in return than he could have hoped for with a virtual gun to his head. The deterioration of St. Louis and Yzerman's relationship has been extensively and publicly covered, after Yzerman left the six-time All-Star off Team Canada's original Olympic roster. With Steven Stamkos returning to the lineup today, it's easy to think of what might have been had the Lightning managed to retain St. Louis, but that kind of postulating is an exercise in futility given just how much things had soured between player and management. Yzerman's securing two draft picks -- a second-round pick this year and a first-round pick in 2015, considered to be the much stronger draft class -- is about as silver a lining as this cloud could have. According to ESPN's Pierre LeBrun, the second-round pick in 2014 becomes a first-round pick if the Rangers advance to the Eastern Conference Finals. If Callahan re-signs with the Lightning, New York gets Tampa Bay's second-round pick in 2015, while Tampa Bay gets an additional seventh-round pick from New York.
In the end, it was a deal that had to get done, with lines drawn in the sand by an unhappy star on one side and a refreshingly frugal front office on the other. The Lightning made the best of a bad situation, while the Rangers know exactly what they're getting in St. Louis -- and it's frankly better than anything they currently have. In the end, New York is a much better team, addressing deep offensive concerns and positioning itself for a significant playoff run. All it took was one Olympic snub to bring the lights back on Broadway.
(Kavitha A. Davidson is a Bloomberg View columnist who writes about sports. Follow her on Twitter at @kavithadavidson.)
This column does not necessarily reflect the opinion of Bloomberg View's editorial board or Bloomberg LP, its owners and investors.
To contact the author on this story:
Kavitha A Davidson at kdavidson19@bloomberg.net
To contact the editor on this story:
Toby Harshaw at tharshaw@bloomberg.net
Before it's here, it's on the Bloomberg Terminal.
LEARN MORE