RadioShack Still Stuck in the '80s
RadioShack Corp. is not having a good year.
by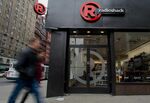 RadioShack Corp. is not having a good year.

Its Super Bowl ad was fantastic, featuring a gang of 1980s characters -- Erik Estrada, Alf, Teen Wolf -- bursting into its stores and taking away all the fusty, dated displays. The idea is that it's getting a new look and a new attitude.
The only thing that it hasn't got is a new reason for me to shop there. And apparently I'm not alone: The iconic chain just announced that it is closing 1,100 stores on plummeting sales.
I've been a longtime customer of RadioShack. In the cities where I've lived, the stores were conveniently located. They had a large, if not totally comprehensive, selection of assorted wires, cables and gadgets you might need as a moderately adept computer geek. I bought my first cable stripper and crimper at RadioShack, as well as any number of random wires and connectors that were suddenly required for minor weekend emergencies. Unlike Best Buy, they didn't hard-sell you on brand-name junk that cost nine times as much as it should.
But these days, I'm more likely to order that stuff off the Internet. With one-day shipping, the emergency has to be very emergent indeed for me to schlep all the way to the store. RadioShack recognized this danger long ago, and it has tried to shift its business toward things like phones and accessories. Unfortunately, half the retailers in the country were trying the same strategy as other segments declined.
Even worse, mobile-phone sales are slowing down as the market matures. In the early days, there was a lot of pressure to upgrade constantly, because phones got so much better with each generation. But now most people have smartphones, and most of those phones are good enough that many people no longer feel an urgent longing to switch to a newer model. RadioShack's lifeline has come untied.
The fundamental problem that RadioShack has is not that its look is dated; the problem is that there's no reason for me, or anyone else, to go in there very often.
RadioShack could conceivably turn it around by turning itself into a completely different store -- a luxury electronics retailer, say, or insert your favorite pet business theory here. But there's a question you always have to ask about such strategic proposals: Why would you pick RadioShack to execute them?
RadioShack is still pretty good at doing the things that made RadioShack rich being RadioShack. It has systems, employees and an institutional culture that are optimized for those things. But if you were building a company to do something very different, would you choose those systems and employees, that culture, to do it?
Sometimes the answer is "yes." But often the answer is "nope." And RadioShack, it seems to me, is in that position: Most of the businesses it is good at are in the process of being destroyed by the Internet. And so are most of the related businesses you can imagine RadioShack moving into. The exceptions, such as mobile-phone handsets and electronic novelties, aren't very good businesses, either.
Does that mean RadioShack is doomed? Never say never. But it is certainly in a very tough spot. And to get out of it, it needs to give its consumers a better answer to the question "Why should I go into your store?"
This column does not necessarily reflect the opinion of Bloomberg View's editorial board or Bloomberg LP, its owners and investors.
(Megan McArdle writes about economics, business and public policy for Bloomberg View. Follow her on Twitter at @asymmetricinfo.)
To contact the author on this story:
Megan McArdle at mmcardle3@bloomberg.net
To contact the editor on this story:
Brooke Sample at bsample1@bloomberg.net
Before it's here, it's on the Bloomberg Terminal.
LEARN MORE