Democrats Get Cozy With the Status Quo
The Democrats aren't jumping into the ideological deep end anytime soon.
by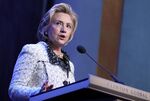 A lot of people keep waiting for the Democratic Party to jump into the deep end. Pew Research Center pollster Andrew Kohut produced the latest installment in this vein with a Washington Post essay, "Are the Democrats Getting Too Liberal?"