Deleveraging Is a Drag
Investment outlook for 2014, Part 1.
by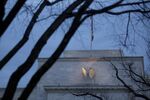 Last year, Federal Reserve largesse was the dominant influence on investments. Monetary policy will continue to be an important ingredient in 2014. Still, global financial deleveraging remains the overarching driver of monetary policy and related financial-market distortions, particularly for the euro area, the U.K. and Japan. It also will affect fiscal policies, U.S. consumer behavior, whether we have inflation or deflation, protectionist tendencies, the strength of the dollar, financial regulation and developing-country growth.