Putin's Sympathetic Audience in Crimea
Watching Russian President Vladimir Putin's news conference from the Crimean capital of Simferopol today was revealing, and a little surreal.
by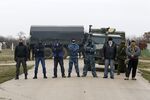 Watching Russian President Vladimir Putin's news conference from the Crimean capital of Simferopol today was revealing, and a little surreal.

Not long before Putin told reporters in Moscow that "not a single gunshot has been fired" in the securing of Crimea, unmarked, and apparently Russian, troops were firing warning shots over the heads of several hundred unarmed Ukrainian guards at the Belbek military airport, between Simferopol and Sevastopol. The Ukrainians were asking to return to their posts. Similarly hard to grasp was the Russian leader's insistence that Ukrainian soldiers in Crimea were on the same side as their "brother" Russian troops, who are barricading them in and threatening them with fake ultimatums to surrender.
Then there was the issue of the unmarked military uniforms. Putin continued to insist that the highly disciplined, identically dressed and armed men who have taken charge of strategic points around Crimea are not Russian soldiers but self-defense militias, who all happened to buy the same unmarked uniforms from army surplus stores (it could happen). Presumably, they got their standard-issue rifles, bulletproof vests and armored personnel carriers from the same stores (which could not).
In Simferopol, there is a self-defense force of pro-Russia volunteers, some of whom really did buy combat fatigues from surplus stores. While committed and enthusiastic, these volunteers are a bit bored -- they have nothing to defend. They gather daily outside a cafe in the center of town as shoppers stroll unmolested in the streets. Meanwhile, the fear that neo-fascist crazies will flood down from Kiev to attack the Russian population here is becoming hard to sustain, now that troops have locked the peninsula down.
Mostly, the volunteers don't pretend that the thinly disguised Russian soldiers are anything else. They believe the same account of the revolution in Kiev that Putin gave today. They get their news mainly from Russian and local pro-Russia television stations, and they are convinced the protesters in Kiev were predominantly armed neo-fascists, who wore swastikas and Nazi SS insignia on their armbands. The police who sought to crush the demonstrations, some of whom were sent from Crimea, are their "heroes."
Most of the volunteers, many of them retired military officers, deeply regret the collapse of the former Soviet Union -- again, much like Putin. For them, World War II is recent history and fascism is alive and well in western Ukraine, where many fought for Germany and against the Soviet army. The national heroes of western Ukraine are the Nazi villains of Crimea.
"Ukraine is a Frankenstein country, in which all the body parts are taken from different places and reject each other," said Vadim Mordashov, a former deputy in Crimea's legislature who was among the volunteers. "Sooner or later, it has to come apart."
Let's hope Putin doesn't agree. If he does, he left the door wide open today to further interventions.
(Marc Champion is a Bloomberg View editorial board member. Follow him on Twitter at @MarcChampion1.)
This column does not necessarily reflect the opinion of Bloomberg View's editorial board or Bloomberg LP, its owners and investors.