Moelis & Co. Doesn't Need Your Money
by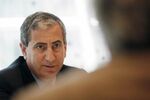 At 110 pages of text plus 26 of financials, the prospectus for Moelis & Co.'s initial public offering is a pretty quick read, for an IPO prospectus. Which makes sense, because Moelis & Co. has a pretty simple business model:
It advises companies on mergers and restructurings and such, with a list of big deals in 2013 including the sale of H.J. Heinz, the sale of NYSE Euronext, and the American Airlines bankruptcy;

those companies pay Moelis;

Moelis pays its bankers.

It pays them a lot, but every bank pays its bankers a lot, don't get too excited about that. Moelis has 317 bankers, and paid $265 million in compensation and benefits last year, for an average of about $835,000 per banker. 1 Whatever. Moelis's business model, and prospectus, are simple enough that you can find more interesting averages. I was particularly tickled by the fact that Moelis spent $18.2 million -- an average of just over $57,000 per banker -- on travel expenses. That is a lot of trips to Pittsburgh, and also an excellent reminder of why I left banking. Never again will anyone spend $57,000 a year flying me to business meetings.

The simplicity of the business model carries through to the balance sheet. Moelis's assets consist almost entirely of cash and Treasuries, plus some small receivables and prepaid expenses, and its liabilities consist mostly of money it's promised to pay its bankers but hasn't gotten around to paying them yet. There's a lot more of the former than the latter -- $303 million in cash versus $134 million in all liabilities -- so Moelis isn't exactly desperate for cash.
So why raise money -- the prospectus has a $100 million amount on the cover -- in an IPO? Unlike the last they-don't-need-the-money IPO that I wrote about, King Digital Entertainment, Moelis does have a use in mind for its cash: After paying its bankers' fees, 2 Moelis is going to use the rest of the proceeds to ... hmm, pay its bankers. 3 I guess you stick with what you know.
Obviously, all financial industry IPOs are in large part about cashing out the employees at what they hope is a good time to sell -- "Moelis is seeking to raise funds after mergers and acquisitions activity had its strongest start to the year since before the global financial crisis" -- but often there are other, expansionist goals as well. The IPO gives you a platform to raise public money and invest in capital-heavy businesses like trading or merchant banking or lending money to clients to win business. 4 You can add scale and diversify away from the vagaries of the corporate advisory business.
But that doesn't seem to be a big part of Moelis's plan. And you can see why not: There's a real appeal to keeping your advisory business free of anything capital-intensive, since trading and lending businesses tend to carry more financial and regulatory risk and raise conflicts of interest with advisory clients. So the prospectus talks up Moelis's independence as an advisor. And here is the entirety of its "Why We Are Going Public" section:
We believe that becoming a public company is important to the evolution of our business and will allow us to:


expand our business, including through the improved ability to attract, hire and retain talented advisory professionals by utilizing a publicly traded security;
enhance our ownership culture through continued equity-based compensation;

establish a process for existing owners to realize the value of their equity over time while maintaining our independence; and

strengthen our brand and position as a leading global independent advisor.

Basically, name recognition, plus making it easier to pay our bankers. I'm not sure that really requires raising $100 million in public money, but then, Moelis is probably better at giving companies financial advice than I am, so I can't really criticize. And if you are going to raise public money, and if the traditional choice for what to do with that money is to get into new and riskier businesses, I guess there's no harm in just giving it to your employees instead.

(Matt Levine writes about Wall Street and the financial world for Bloomberg View.)
To contact the author on this story:
Matthew S Levine at mlevine51@bloomberg.net
To contact the editor on this story:
Toby Harshaw at tharshaw@bloomberg.net
Before it's here, it's on the Bloomberg Terminal.
LEARN MORE