Everything's Bigger In Texas, Even Voting
A dizzying array of choices in an off-year primary election. 
by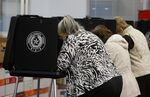 It's Election Day in Texas, and I just voted. And voted. And voted some more.

Last time I voted, in November (see "Humble Blogger Thwarted By Texas Anti-Voting Dragnet"), I had a problem because my driver's license says that I'm Jonathan Bernstein and my voter card shows my name as Jonathan H. Bernstein. It wasn't a big deal; I just had to sign an affidavit saying that I was who I was. Since then,Texas has sent me a replacement voter card, so no problem this time -- except for the expense to Texas in sending out all those replacement cards. The story of voting has disappeared from the newspapers, but given that the last election was a tiny turnout affair and this one is a relatively bigger deal, I'd expect at least as many problems. At my polling place, however, no one else signed in while I was there, and there was no visible stack of affidavits, so maybe things will go fine. On the other hand, the people behind the desk said I was only the 67th voter today.
On to the ballot. The off-year primary election line-up is the tough one, with lots of choices, many with very minimal campaigns, and no cues to help you decide who to vote for. I was asked to vote on 53 items, which is about as much voting as people in some democracies will be asked to do in a lifetime. Then again, there weren't really that many decisions to make, because many offices had only one candidate.

Still, that's another 53 touches on the computer screen. This was my precinct's first election day of the year, and the fourth of the two- and four- year cycles. It brings the total number of votes cast to 65 for those cycles. That includes four "party referendum" votes (in Texas, the parties place advisory policy questions on the primary ballots -- a silly exercise).
I'm expecting a busy voting year. We will almost certainly have one or more run-offs, and we could also have a city council special election in San Antonio. Again, by world standards, that's a lot.

This column does not necessarily reflect the opinion of Bloomberg View's editorial board or Bloomberg LP, its owners and investors.