Elections Are Still a National Disgrace
Sixteen months after the 2012 fiasco, nothing is fixed.
by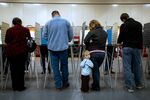 I need to go on a bit of a rant.
BOONVILLE, Ind. - Officials in a southwestern Indiana county say 3,700 early votes cast in the 2012 general election went uncounted because of an error by an electronic voting machine technician.
That news item is from yesterday, or about 16 months after the election (via Hasen).
We shouldn't be surprised. The way we conduct elections is a disgrace. We're supposed to be proud of our democracy, and yet we don't bother to ensure well-administered elections. Sure, federalism adds difficulty, but it's not that hard. If it was a priority, we would get it right.
Over the last few years, Republicans have expended enormous energy to make it more difficult for people to vote. In response, Democrats haven't done much except play defense. The recent Bauer-Ginsberg commission was constrained by a requirement that none of the remedies they proposed could involve spending any money, which means the only available consensus is to ignore serious problems.
(Bauer-Ginsberg did fine considering the constraints, but we're no closer to well-administered elections).
It's Election Day here in Texas, and I'll be voting in a bit (more on that later), but the whole thing is just depressing and frustrating.

This column does not necessarily reflect the opinion of Bloomberg View's editorial board or Bloomberg LP, its owners and investors.