Worry About Inequality Isn't Just Envy of the Rich
Concerns over rising income inequality are about more than just envying the rich.
by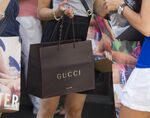 In an article Sunday in the New York Times, Arthur C. Brooks, president of the conservative American Enterprise Institute, made an interesting argument about the debate over U.S. income inequality. The focus on inequality is causing a "national shift toward envy," he wrote, warning about the "toxic" effects of envy on people who experience it: increases in depression, neuroticism and hostility, and a decrease in happiness. You may envy the well-to-do, in other words, but it will cost you.