Russia and Ukraine Have Bigger Problems Than Each Other
The crisis in Ukraine is obscuring the slow-motion collapse in both Russia and Ukraine's economies.
by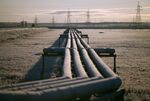 You may have missed it amid the ongoing drama in Ukraine, but Russia's central bank raised its main interest rate today to 7 percent from 5.5 percent -- the single biggest increase in Russian benchmark rates since the country desperately tried to retain foreign capital before the 1998 default. It's the Bank of Russia's latest attempt to arrest the decline of the ruble, which has lost 20 percent of its value against the euro since May as private investors pull their money out of the country.