Goldman Sachs Leans In, Merrill Lynch Leans Out
Goldman's hiring of Alice Murphy is remarkable because she is one of the rare people whose former employer, Merrill Lynch, has denied her paid "gardening leave" before departing. 
by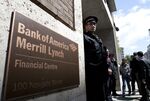 Back in the real world of Wall Street -- and away from the absurdity of the @GSElevator hoax -- we have the bizarre story of Alice "A.J." Murphy, one of the most highly respected women in finance. Last week, the actual Goldman Sachs Group Inc. hired Murphy away from Merrill Lynch, the investment-banking division of Bank of America Corp., as a partner managing director and the global head of leveraged finance origination. Murphy had been co-head of leveraged finance at Merrill Lynch.
It is exceedingly rare for Goldman to hire anyone, let alone awoman (and the mother of four children under 8), laterally into its coveted partnership ranks. Goldman has accepted about 400 senior bankers, traders and executives as partners; they can easily earn more than $10 million in annual compensation. Goldman prefers to promote these partners up through the ranks.
Among those Goldman has hired as lateral partners are such mergers and acquisitions veterans as Jack Levy from Merrill Lynch, Gordon Dyal from Morgan Stanley and Michael Carr from Salomon Brothers. (Disclosure: I used to work for Levy at Merrill, and Carr is an acquaintance.)
But Goldman's hiring of Murphy is remarkable for another reason: She is one of the rare people whose former employer, Merrill Lynch, has denied her the paid "gardening leave" of three to six months that has become standard practice when senior bankers and traders change jobs.
The idea, which started in Europe and migrated to the U.S., is that a lengthy mandatory break -- paid for by the former employer -- will greatly reduce the chance that departing employees will know about ongoing deals or trades that could benefit their new firm. It's safe to say that, three months away from the day-to-day grind, any information about a previous deal or trade has gone stale.
The gardening leave has also become a way for high-powered alpha men and women to take a much-needed break and to recharge their batteries before starting a new job. In other words, it's generally considered a win for everyone involved, and it's highly unusual for it to be denied.
According to the Wall Street Journal and the Twitterverse, Thomas Montag, a former Goldman partner and the co-chief operating officer of Bank of America, personally denied Murphy's gardening leave request. Maybe Montag is angry that Goldman stole one of his firm's top performers. Maybe he is irked that a competitor lured away one of the few senior women on Wall Street.
Or maybe Montag is upset that Goldman showed him the door after an infamous e-mail that used an expletive to describe a failed collateralized debt obligation Goldman had sold to a Bear Stearns hedge fund and bought back a few months later at a discount after the hedge fund was liquidated. We don't know Montag's reasoning because neither he nor a Bank of America spokesman would speak on the record about what happened and why.
In any event, Montag's decision is monstrously unfair to Murphy. Although we collectively have been trained to feel no pity for highly paid Wall Street types, it is hard to imagine that Montag would have done this to a man.
We supposedly have entered a kinder, gentler era on Wall Street, in which young analysts and associates are no longer encouraged to work absurdly long hours. Even Bank of America has mandated that neophyte bankers and traders take off at least four weekend days a month to reduce burnout.
Montag's petty denial of Murphy's gardening leave shows that Wall Street has a long way to go if it's serious about treating people fairly -- or wanting to attract more women to its top ranks. If Brian Moynihan, the chairman and chief executive officer of Bank of America, were smart, he would overrule Montag and remind us, in a small way, what true leadership on Wall Street means.
(William D. Cohan is a Bloomberg View columnist. Follow him on Twitter at @WilliamCohan.)
This column does not necessarily reflect the opinion of Bloomberg View's editorial board or Bloomberg LP, its owners and investors.