Fairholme Wants Fannie and Freddie to Be Normal Again
Fairholme Capital Management's theory of Fannie Mae and Freddie Mac appears to be that if you pretend hard enough that they're regular companies, it might come true.
by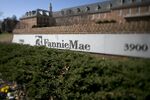 Fairholme Capital Management's theory of Fannie Mae and Freddie Mac appears to be that if you pretend hard enough that they're regular companies, it might come true. This is not the worst theory? As theories go. For instance, Fannie and Freddie have boards of directors. Since those directors agreed to pay the Treasury all of their companies' profits, their job is basically to punch shareholders in the face every quarter on behalf of the government. But in a normal company, the board would be tasked with running the company on behalf of shareholders. You could see why shareholders like Fairholme would prefer that.
So the latest is that Fairholme sent some letters to Fannie's and Freddie's boards, asking them to act more like normal boards of directors and less like wards of the state. Here are the letters, and they're pretty punchy. Most immediately, Fairholme wants the enterprises to stop sending all of their profits to Treasury every quarter; more broadly, it wants the directors to set themselves up as an independent force, taking the side of the shareholders against the government. On the first point, here is, generally, how you make corporate directors pay attention:
It is common sense that no Board should approve cash distributions without independent financial advice as to the effect of such payments on the Company's safety, soundness, and liquidity. Moreover, corporate laws generally prohibit the payment of dividends in many circumstances, imposing personal liability on Directors for illegal dividends - a liability that, pursuant to the Housing and Economic Recovery Act of 2008, is not assumed by the Conservator.
Fannie is scheduled to pay a $7.2 billion dividend to the Treasury this month, and I am imagining a court finding that dividend illegal and Fannie's 12 directors having to come up with half a billion dollars or so each to pay back to the company.
QuickTake Homeownership Reconsidered
I am not imagining it too hard, though. 1 And neither, it seems, is the board: Fannie's chairman, Philip Laskawy, had a curt response to Fairholme's letter, saying that he is "confident that the Board is doing the job it has been given," which is not the job that Fairholme wants it to do: "FHFA has retained certain authorities for its exclusive determination and control, as provided by federal statute, including all decisions relating to the declaration and payment of dividends to the United States Treasury." So Fairholme's immediate goal of getting the board to stop paying Treasury seems a bit unlikely.
Still you can't fault them for trying. The larger goal of Fairholme's campaign is, first of all, to create a good record for its ongoing litigation over who gets Fannie's and Freddie's profits. But another goal seems to be to shift perceptions within Fannie and Freddie. The boards, made up mostly of people with private-sector experience who are used to the idea of public companies operating as fiduciaries for their shareholders (and the related idea of directors being sued personally if they don't), might have some sympathy for the shareholders' predicament, and so Fairholme might as well try to use that sympathy to divide the government regulators of Fannie and Freddie from the directors they've installed. 2 Getting the enterprises' directors to think like directors of normal companies is a plausible first step to turning them back into normal companies, even if the directors can't currently do much.
Of course, the main problem is that Fannie and Freddie are not really normal companies. They're weird quasi-agencies of the U.S. government, guaranteeing mortgage debt with the not-quite-full-faith-and-credit of the government behind them. 3 And nobody quite knows what normal-company versions of Fannie and Freddie would look like. 4
John Carney has a good column today doing some math on how much Fannie and Freddie depend on the government. Part of this dependency is that Fannie and Freddie have massive securities portfolios funded by massive below-market borrowings, but the core business -- guaranteeing mortgages against default -- is even more weirdly government-dependent:
Fannie's other big source of income is its mortgage-guarantee business. This generated about $12.3 billion of income last year, excluding loan-loss releases, on about $3 trillion of single-family and multifamily mortgage guarantees. This is the business that Fairholme Capital and other fund managers see as most attractive. Again, though, this business is so profitable only because of government support, something the firm doesn't pay for.

Yet the bailout agreement envisioned the government levying a fee for what is effectively reinsurance. While its size was never determined, the fee was waived in the 2012 change to the bailout terms.
Remember that part of the reason Fannie and Freddie don't pay for a government guarantee is that, officially, they don't have a government guarantee, but leave that aside! The point is that normalcy in this business is hard to imagine, because there's not much precedent for it.
Just for fun, I've taken a swing at imagining it; that swing is in the footnotes for those who share my view of fun. 5 The numbers are fake, but the important point is that your conclusions will be entirely a product of your assumptions: A highly capitalized Fannie/Freddie paying a big reinsurance fee to the government will not work as a private entity; a thinly capitalized Fannie/Freddie relying solely on its own credit (and no too-big-to-fail guarantee hahahaha) to insure mortgages could easily earn double-digit returns. If markets cooperate, that is; I'm not sure that a non-government-backed guarantee from a private, thinly capitalized Fannie and Freddie would be worth quite as much as the current quasi-governmental version but, you know, let's find out.
Obviously, some people want a Fannie and Freddie that can't work as private entities and that remain highly profitable wards of the Treasury forever. And obviously others, such as Fairholme, want a Fannie and Freddie that do work as private entities and are highly profitable for their existing shareholders rather than for Treasury. 6 In a normal world, you'd expect the board of directors to be on the side of the shareholders, and of profitability. Clearly, Fannie and Freddie don't live in that normal world, but it's not impossible that frequent reminders of normalcy will push the directors in that direction.
(Matt Levine writes about Wall Street and the financial world for Bloomberg View.)
To contact the author on this story:
Matthew S Levine at mlevine51@bloomberg.net
To contact the editor on this story:
Toby Harshaw at tharshaw@bloomberg.net
Before it's here, it's on the Bloomberg Terminal.
LEARN MORE