view
The Philippines' $23 Billion Problem
The Philippines' Benigno Aquino has a far bigger problem on his hands than cops hitting up citizens for bribes: Customs agents are shaking down his entire $250 billion economy.
by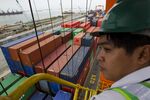 Mikheil Saakashvili, does the Philippines ever have a job for you!
The former Georgian president is enjoying some downtime after almost 10 tumultuous years in office, during which he famously disbanded the hated traffic police to root out graft. If Saakashvili is hankering for a new challenge he might find it in Manila, where Benigno Aquino covets his own anti-corruption shakeup.
This, admittedly, is a reach. And Aquino has a far bigger problem on his hands than cops hitting up citizens for bribes: Customs agents are shaking down his entire $250 billion economy and perpetuating poverty. Aquino has tried to rein in the Bureau of Customs since June 2010, ramping up investigations, sacking some top officials and putting invoice data online. But Aquino should probably take a cue from Saakashvili and engineer a wholesale customs purge, firing thousands.
Sound harsh? Not when you consider that since 1990, smuggling has cost Filipino taxpayers at least $23 billion, or nearly 10 percent of today's annual economic output. And that, says Clark Gascoigne of Washington-based think tank Global Financial Integrity, which calculated the figure, "is clearly quite conservative." The group's Philippine probe relies largely on publically-available trade-invoice documents, and of course, lots of smuggling takes place far off the books.
Global Financial Integrity alleges, for example, that traceable outflows related to crime, corruption and tax evasion cost the nation at least $133 billion between 1960 and 2011. That figures swells to more than $410 billion when you count illegal money flowing in, too.
All these billions would help finance badly-needed improvements to education, infrastructure and the national balance sheet. Even though the Philippines is growing close to 7 percent, one in four Filipinos subsist on less than $1.25 a day. Aquino has succeeded in raising revenues to gain control of public debt. But few efforts would pay bigger dividends in his last two years and four months in office than intensifying the cleanup of the customs operation.
In a recent interview, I asked Aquino, partly in jest, if he thinks about just shutting down the entire customs bureau. "We're sort of fantasizing a reset button," he deadpanned. But think about it. The vast amount of money lost on trade transactions could eliminate the $5.4 billion budget deficit (as of 2012), lowering interest rates and moving the Philippines further up the investment-grade ladder.
The Philippines has already gained by weeding out some rotten apples. Aquino nodded to Finance Secretary Cesar Purisima, who sat in for the interview last week, and explained a related windfall on revenues: "So far, since you replaced officials, they're up 19 percent, compared to the previous year."
A customs-agency overhaul would shock a political culture that's tolerated large-scale plunder for decades. It would greatly undermine the underground economy, smashing the web of related graft in other agencies and across business sectors. "The macro story for the Philippine economy is great," Gascoigne says. "But the need now if for some key actions at the micro level."
That means putting even more transactions data on the government's data.gov.ph website to enable greater scrutiny; requiring banks to verify the true owner of each account opened at their institution; aggressively ramping up customs enforcement and audits to make sure that when a rice sale pulls in $20,000 on the Philippine side, the buyer's documents in, say, Taiwan, don't report a $10,000 deal; expanding the definition of money laundering; scrutinizing each and every transaction with tax havens like Dubai, Hong Kong and Singapore; upping salaries so that customs agents won't get entrepreneurial; reducing opportunities for face-to-face transactions; and hiring more outsiders to cleanse the bureaucracy.
No one is saying these are easily fixable problems for Aquino, who has just six years in office. But when dealing with a nation in which corruption is both deeply entrenched and all too tolerated, like the Philippines, a little Saakashvili-like shock therapy may be the only answer.


(William Pesek is a Bloomberg View columnist. Follow him on Twitter at @williampesek.)


To contact the author on this story:
Willie Pesek at wpesek@bloomberg.net
To contact the editor on this story:
Nisid Hajari at nhajari@bloomberg.net
Before it's here, it's on the Bloomberg Terminal.
LEARN MORE