Economic Tools to Use Against Putin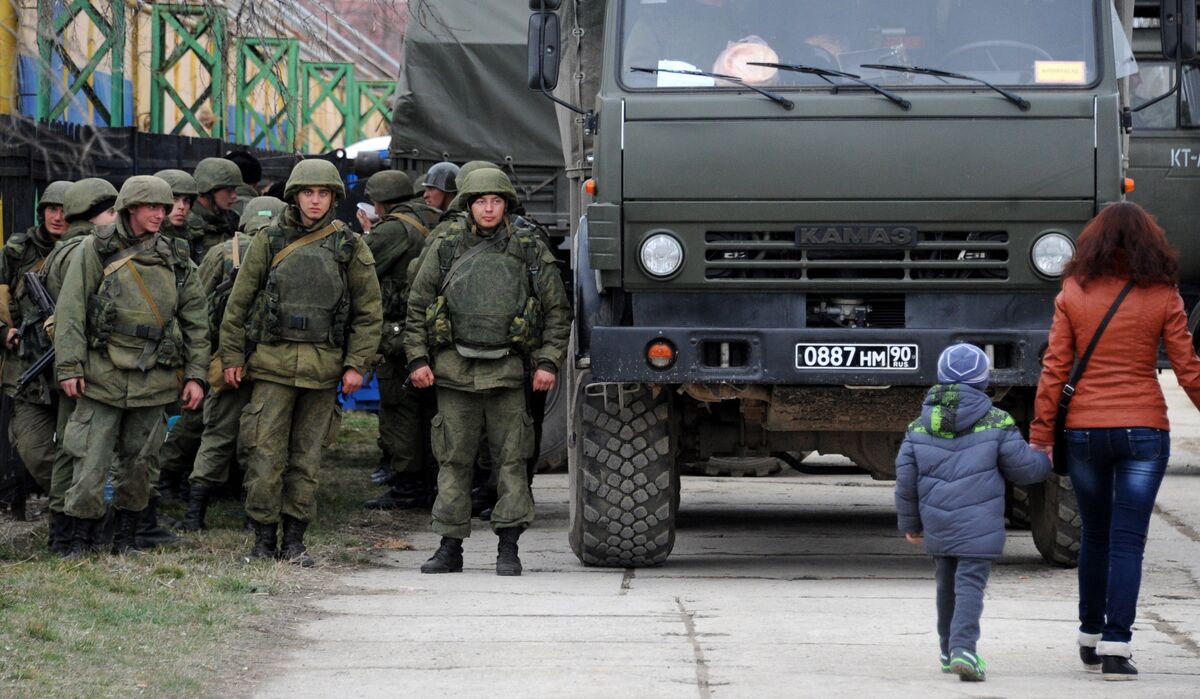 Photographer: Viktor Drachev/AFP/Getty Images
There seems to be an acceptance that little can be done to deter Russian President Vladimir Putin from fully invading Ukraineif he chooses, because while Russia may be willing to go to war over the country, the U.S. and Europe are not.
This fatalism is misplaced. The world is knit together in ways that it wasn't during the Cold War. Russia, which is dependent on oil and gas exports for about half of its government revenues, and is by now well-integrated into international finance systems, is very much a part of the global network.
So the question is not whether the West has tools short of war that it can use to persuade Putin to exercise restraint. It is whether the U.S. and EU are willing to pay the costs of using them.
For now, diplomacy should remain focused on ensuring that the new authorities in Kiev do nothing that would provide Putin with an excuse to move his troops past Crimea -- which they have already effectively seized -- into other parts of Ukraine, triggering a war. Yet it can't be assumed that Putin won't be the one who does the provoking, so more is required.
To help the Russian leader think twice about it, Western countries need to put on the table a steep progression of potential sanctions. So far, U.S. President Barack Obama and many of his EU counterparts have warned Putin that he would pay a price for further aggression, but haven't named it. And that's hardly a way to persuade a power politician such as Putin, who sees securing Ukraine for Russia as paramount.
First, the G8 meeting scheduled for June in Sochi should be canceled (a move that appears to already be in the works), and a G7 event, sans Russia, should be held elsewhere to demonstrate that Putin's actions are making him a pariah.
Next, the U.S. and the EU should draw up extensive lists of top Russian officials and business people to exclude from travel to the West -- and not a dozen or so, as on the so-called Magnitsky list, but hundreds. Russia's business elite is by now inextricably linked with the Kremlin, and Putin's closest friends and associates run the country's biggest businesses. These people hold their money abroad, they have summer houses on the French Riviera, and their relatives live and go to school in London. Cutting off their access should give them pause about the wisdom of trying to reconstruct the Soviet empire.
In 2011 alone, Russians spent $12 billion buying properties outside Russia. The lawmaker who in 2012 introduced a bill in the Russian parliament to outlaw officials from holding foreign assets estimated that they were keeping $100 billion abroad. Putin's purpose in pushing this bill was precisely to reduce a point of leverage that might one day be used against him. Western leaders should not hesitate to use it now.
By the same token, both the U.S. and the EU could do a great deal more to investigate illicit financial transactions by Russian banks and in bank accounts from Cyprus to the City of London to the Caribbean. The threat of such inspections and what they would reveal about Russia's kleptocracy, as well as eventual asset freezes, would also help concentrate minds in Moscow. Juan Zarate, a former assistant secretary to the U.S. Treasury for terrorist financing and financial crimes, has described how this could be done to pressure Russia over its support for Syrian President Bashar al-Assad. A threatened takeover in Ukraine is further powerful reason to act.
There is no doubt that even talking about such actions would further sour the relationship between Russia and the West. Putin could end Russia's cooperation in Afghanistan, complicating the military withdrawal there, and undermine international efforts to deal with Iran and Syria. There would be costs in lost business for banks in London, Germany and elsewhere, and Putin surely would retaliate against Western companies operating in Russia. Yet if troops march into Ukraine, all this and more will happen anyhow.
The interests of the EU and the U.S. aren't just democratic values and the desire to avoid war. There is also the need to end Putin's assumption that he can trump international law and the treaties he has signed -- the idea that Russia can invade without penalty any country it perceives to be mistreating expatriate Russians, and change its borders. If Putin is willing to launch a war to seize Ukrainian territory, he may also be prepared to move on other ex-Soviet states with large ethnic Russian populations, including Estonia and Latvia. Europe and the U.S. should be willing to bear costs in order to draw the line.
For Related News and Information:For more Bloomberg View: {VIEW <GO>}
--Editors: Marc Champion, Mary Duenwald

To contact the editor on this story:
David Shipley at davidshipley@bloomberg.net