What Mattered This Week?
Jonathan Bernstein's take on what was important.
by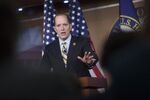 I'll leave the Arizona law and the various court actions on marriage for you to discuss. This week, I'm going with the continuing fight in the Senate over nominations. There may have been a bit of progress on this incredibly important story.
As for what didn't matter this week? Probably, alas, Dave Camp's tax reform plan. I'm not taking a position on it, but I do think Republican efforts to come up with serious policy should be rewarded and it sure doesn't appear that Camp's plan will be.
That's what I have. What about you? What do you think mattered this week?

This column does not necessarily reflect the opinion of Bloomberg View's editorial board or Bloomberg LP, its owners and investors.
(Jonathan Bernstein covers U.S. politics for Bloomberg View. He is co-editor of "The Making of the Presidential Candidates 2012." Follow him onTwitter at @JBPlainblog.)

To contact the author on this story:
Jonathan Bernstein at jbernstein62@bloomberg.net
To contact the editor on this story:
Max Berley at mberley@bloomberg.net
Before it's here, it's on the Bloomberg Terminal.
LEARN MORE