It Takes a Tax Haven to Get the Wealth Gap
Paul Krugman is shifting from Princeton to City College of New York to study income inequality.
by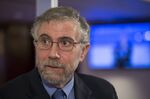 Paul Krugman, the Nobel Prize-winning economist who moonlights as a columnist for the New York Times, is moving to the City University of New York from Princeton University. And I couldn't help but get a chuckle when I saw one of the reasons why.
Krugman, 61, wrote today in a post on the Times website that he will join the faculty of the Graduate Center at CUNY as a professor in the Ph.D. program in economics. He also will become a distinguished scholar at the Graduate Center's Luxembourg Income Study Center. "More and more of my work has focused on issues of income inequality, and nobody does more important work producing the hard data on which all of this work relies than the Luxembourg Income Study," he wrote.
I must admit that I hadn't heard of the Luxembourg Income Study Center before today. I'm sure it's a fine program with fine people, given that Krugman is joining it. As Bloomberg News explained in an article today, the Luxembourg Income Study Center is a satellite of the LIS Cross-National Data Center in Luxembourg, which brings together data on income, wealth, employment and demographics from almost 50 countries and harmonizes the figures so they can be compared.
It's wonderful stuff. But isn't it more than a bit funny that all of this important work on the subject of income inequality and the wealth gap is being done from a country that's a notorious tax haven?
I suppose one could think of this as akin to corporate synergy. (The brands owned by the Dutch conglomerate Unilever NV, for example, include both Ben & Jerry's and Slim-Fast.) It's not as amusing as, say, a center devoted to studying income inequality that's based in the Cayman Islands or Bermuda. But still, it's enough of a smiler to merit a mention. So noted.

(Jonathan Weil is a Bloomberg View columnist. Follow him on
Twitter at @JonathanWeil.)
This column does not necessarily reflect the opinion of Bloomberg View's editorial board or Bloomberg LP, its owners and investors.