Is God Really Rooting for Kevin Durant?
Oklahoma City currently sits comfortably across the NBA Western Conference standings, thanks in large part to the superhuman efforts of Kevin Durant. But is a higher power secretly the team's MVP?
by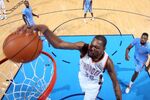 Oklahoma City is sitting comfortably atop the NBA Western Conference standings, thanks in large part to the superhuman efforts of Kevin Durant. But is a higher power secretly the team's MVP?
According to the New York Times, the Thunder begin each game with a stadium-wide invocation to the audience of more than 18,000 in Chesapeake Energy Arena. Though prayer is common in Nascar and at some colleges, Oklahoma City is one of only two teams in the four major professional leagues that feature one as part of its everyday pregame ritual. But for a team that boasts the second-best record in the NBA, is it a good idea?
On the surface, in Oklahoma City in particular, the answer appears to be "yes." According to Gallup, 73 percent of Oklahomans identify as Protestant, ranking it sixth in the nation. Many Thunder fans have praised the use of invocations, which has proven a handy marketing tool that the front office swears is more a happy byproduct than direct motivation.
The Thunder also maintain that the prayers are nondenominational, proudly noting that in addition to Christian pastors they've also had Jewish rabbis and Native American spiritual leaders. This could actually be a push for inclusiveness, or it could be a disingenuous attempt at keeping up appearances. Regardless, it's hard to imagine Oklahoma -- a state where voters in 2010 passed anti-sharia legislation (really) -- opening its arena to leaders from religions it might consider less savory. Not to mention the fact that prayer in itself serves to alienate agnostic or atheist fans.
I can already hear the calls of those who insist that America is and always will be a religious country, and I don't deny that even in 2014, Christianity reigns supreme. A privately owned organization such as the Thunder reserves the Constitutional right to host prayer, but the arena is owned by the city and thus falls into that murky area of municipal appropriateness for public religious demonstrations. Leaving aside questions of legality, however, it might not even be a good long-term business decision. According to a 2012 Pew study, the number of Americans who do not identify with any religion is rapidly on the rise. Twenty percent of all U.S. adults -- and a third of the population under 30 -- are unaffiliated, up from 15 percent just five years earlier. While America is still majorly religious, the demographics are quickly shifting away from the faith-based.
If Oklahoma City still boasts a fervently religious population, why does the trend of the overall country matter? Frankly, it wouldn't much if the Thunder weren't so darn talented. Led by MVP front-runner Durant and young stars Russell Westbrook and Serge Ibaka, the Thunder are built to make serious championship runs for years to come. Durant's uniform was the fourth-highest selling jersey in the league last season. If the Thunder want to grow their fan base beyond Oklahoma's borders, they may want to tone down practices that might turn off fans from less homogeneously religious parts of the country.
Finally -- and this gets said every time a musician or athlete thanks god for helping him win a Grammy or nail a bunch of threes or whatever -- but if a higher power exists, it surely has more important priorities than ensuring basketball stars "play well, with good sportsmanship," as one recent prayer invoked. Unfortunately, it bears repeating: Just weeks before this year's Super Bowl, the Public Religion Research Institute reported that half of American fans believe a religious force influences sports. I wonder how all those people reconciled that belief with the fact that the Vince Lombardi trophy ultimately went to a team from the third-least religious major city in the country. Maybe God decided to skip the cold-weather Super Bowl after all.
(Kavitha A. Davidson is a Bloomberg View columnist who writes about sports. Follow her on Twitter at @kavithadavidson.)
This column does not necessarily reflect the opinion of Bloomberg View's editorial board or Bloomberg LP, its owners and investors.