Friday Baseball Blogging: Getting to 300 Wins
Who will be the next 300-game winner?
by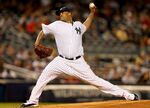 I'm a long-time optimist about 300-game winners. But last year was pretty awful for getting someone to the mark and the top of the active list is about as bad as it has ever been. Still, I'd bet there's an active pitcher who will make it to 300 wins.
After all, Andy Pettitte got to 256. If he hadn't skipped a little more than a year, he might have retired after he turned 41 with about 270 or 275. And he wasn't at all bad last year. He could have begun this year as a rotation starter somewhere, and, with a little luck, he might have made it. If Pettitte got close, it's hard for me to believe that there's not a somewhat better, somewhat more durable pitcher out there.
The obvious candidate is CC Sabathia. He'll be 33 this season and has 205 wins -- which is an excellent pace. How many years does he have left? This is obviously a big year for him and despite coming off a down year, it hardly seems like a stretch to imagine that he could have eight more seasons to get there as a starter. That would make him a solid contender for 300 wins.
The only other guy who has reached the halfway point with a reasonable chance is Mark Buehrle. He'll be 35 this year and, though he certainly doesn't seem like a 300-game winner, he does have 186 wins. He would need a very nice run to get there, but with pitchers, you never know. Suppose, over the next four years, Buehrle gets 60 more wins. That's unlikely, but not unimaginable. Then he would be 38, with 246 wins. He'd just need to have some longevity for a real chance. (I could mention Tim Hudson's chances. But while it isn't impossible for him to get there, it's very unlikely.)
After that, there's really no one who is close enough to be worth talking about. Justin Verlander just turned 31 and has 137 wins -- not a great pace. King Felix? At 27, he has 110 wins. That's excellent but it's still very early.
Still, Don Sutton and Steve Carlton reached 200 wins in their 33-year-old seasons. Nolan Ryan did it at 35, and Gaylord Perry did it at 36. You don't have to make it to 300 by age 40. In fact, that's not the normal path. Things don't look great now but someone out there is going to make it to 300.
This column does not necessarily reflect the opinion of Bloomberg View's editorial board or Bloomberg LP, its owners and investors.