The One Percent Should Pay for Faster Growth
Could the extreme wealth inequality of countries such as Russia and Ukraine actually be an untapped resource?
by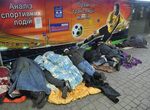 Could high income inequality actually be a coiled spring that can be used to boost growth? Could redistributing wealth actually be good for the economy? These are the somewhat counterintuitive conclusions one might draw from a new paper by a team of International Monetary Fund economists.