Our Overhyped Voting Drives
Team Obama's success may have been overstated.
by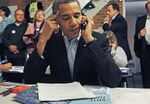 A new study finds that the Democratic advantage in turnout from the highly regarded get-out-the-vote operation in 2012 was….zilch.
That's according to Ryan Enos and Anthony Fowler, who detail their study at the Monkey Cage today. Previous studies had found a small, but real, advantage for Team Obama.
Who is right? I haven't read the underlying studies, so I can't really say. I expect we'll be hearing more. That's how academic work advances. Note that this research doesn't just help us understand what happened; to the extent it can point to what works, it could influence the next generation of electioneers.
What I find most interesting about Enos and Fowler's piece is that it helps us understand the size of the effect. Comparing the differences between organized and not-organized precincts within the same media market, they find a 7 percent difference in turnout. It's reasonable to presume that result is obtained with both sets of precincts being exposed to the same media campaigns, so that the only difference should be the presence or absence of get-out-the-vote efforts.
Make of all that what you will. What strikes me as most interesting is that if there's (about) a 7-point difference between areas where there was a GOTV drive and areas where there was none, then it's easy to imagine an even larger difference between "campaign" and "no-campaign" areas. This is never the case in presidential elections, but it occurs in many down-ballot contests, including for House seats. Granted, those voter drives may not be as sophisticated as those of President Barack Obama (and Mitt Romney) in 2012. Still, the something-beats-nothing dynamic can probably be very large in House and other contests, even if at best it doesn't count for much in fully engaged presidential contests.
Regular readers will at this point expect me to plug floors-not-ceilings campaign-finance reform. Yup. It probably isn't a big problem if someone wants to spend $20 million or whatever on a House campaign, but if a candidate can't spend $500,000, or even $250,000, then we're in something versus nothing territory, and that is bad for democracy, in my view.
But at any rate: it's more information than we had before about one type of campaign effects. Everything helps.
This column does not necessarily reflect the opinion of Bloomberg View's editorial board or Bloomberg LP, its owners and investors.
(Jonathan Bernstein covers U.S. politics for Bloomberg View. He is co-editor of "The Making of the Presidential Candidates 2012." Follow him onTwitter at @JBPlainblog.)
To contact the author on this story:
Jonathan Bernstein at jbernstein62@bloomberg.net
To contact the editor on this story:
Max Berley at mberley@bloomberg.net
Before it's here, it's on the Bloomberg Terminal.
LEARN MORE