Credit Suisse CEO Joins Wall Street Clueless Club
Credit Swiss's CEO says that he didn't know that his bank, which happens to be Swiss, was engaged in helping foreign clients evade taxes in their home countries. 
by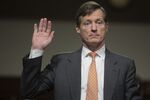 One of the best lines to come out of the financial crisis was by Michael Lewis in a March 2008 column for Bloomberg News: "Jimmy Cayne plays bridge, and Stan O'Neal golfs while their firms collapse, not because they don't care their firms are collapsing, but because they don't know that their firms are collapsing," he wrote.
For those who don't recall, Cayne was the head of Bear Stearns Cos. who snuck away to play in bridge tournaments while Bear careened toward disaster. O'Neal was the head of Merrill Lynch & Co. who played 20 rounds of golf on four different courses between Aug. 12, 2007, and Sept. 30, 2007, while Merrill lost $8.4 billion on subprime-mortgage bonds.
Why bring this up? Because we have a new wrinkle on this old adage that senior executives of large banks have no idea what actually goes on inside the bowels of the companies they get paid stunning amounts of money to run. Yesterday Credit Suisse Group AG Chief Executive Officer Brady Dougan said his bank's top bosses didn't know the employees there were helping clients hide billions of dollars from the Internal Revenue Service. And his statements obviously deserve to be taken seriously, given that he was testifying under oath.
"Some Swiss-based private bankers went to great lengths to disguise their bad conduct from Credit Suisse executive management," Dougan told the U.S. Senate Permanent Subcommittee on Investigations at a hearing on the bank's tax-evasion services. "While that employee misconduct violated our policies, and was unknown to our executive management, we accept responsibility for and deeply regret these employees' actions."
According to the Senate panel's report on Credit Suisse, "in 2008, over 1,800 Credit Suisse bankers in eight different areas of the bank opened and serviced Swiss accounts for U.S. clients." At one point there were 22,000 such accounts holding 12.4 billion Swiss francs ($14 billion). Yet the misconduct, as Dougan called it, was unknown to Credit Suisse's most senior executives. Imagine that.
Perhaps they also weren't aware back then that Swiss banks had a reputation for helping wealthy foreigners evade taxes in their home countries. If you were to ask the average guy on the street what Swiss banks do, there's a good chance he would say something like: Hide money for rich people with secret bank accounts. But maybe that's something Credit Suisse's CEO wouldn't know his bank was doing in real life.
Dougan, who is American, joined Credit Suisse in 1990. He was promoted to the company's executive board in 2003 and has been the CEO since 2007. Doesn't he talk to other people?
There are a few distinctions worth noting between this situation and the ones at Bear Stearns and Merrill. Those banks suffered rapid-fire near-death experiences, but they never got letters from the Justice Department saying they were targets of a criminal investigation. Credit Suisse did in 2011, which you have to think might have made a difference in the way Dougan's testimony was worded.
When CEOs of dying banks don't know what's going on, they look stupid and overpaid, but they won't go to jail. When the CEO of a bank that's running an illicit enterprise is clueless, that's a good defense.
Michael Lewis's rule of thumb still stands.
(Jonathan Weil is a Bloomberg View columnist. Follow him on Twitter.)
This column does not necessarily reflect the opinion of Bloomberg View's editorial board or Bloomberg LP, its owners and investors.