China Must End Its GDP Worship
There are at least three major challenges China will never be able to address if leaders feel obliged to keep growth above a specified level: local government finances, pollution and the shadow-banking system.
by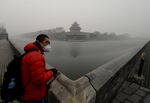 Next week, world leaders, corporate executives and hedge-fund managers will return to a collective obsession: China's growth target for the year ahead. The eyes of the world will be on Premier Li Keqiang to see if he again sets the number above 7 percent, a kind of comfort zone for officials from Singapore to Sao Paulo.