How Many Guns Does It Take to Kill a Millennial?
While the news media may gorge upon the millennial trait or terror du jour, one of the most pervasive threats to American youth is neither novel nor particularly sexy.
by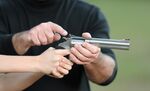 While the news media may gorge upon the millennial trait or terror du jour, one of the most pervasive threats to young adults in the U.S. is neither novel nor particularly sexy.
Guns kill an astonishing number of young Americans. On Friday, the liberal Center for American Progress, together with its Generation Progress project, released a report, "Young Guns: How Gun Violence Is Devastating the Millennial Generation." 1 It highlighted various statistics about the intimate -- and disconcerting -- relationship between firearms and our country's young people.
A stirring New York Times portrait of heroin abusepublished after Philip Seymour Hoffman's death cited 3,094 drug deaths involving heroin in 2010, with almost one-fifth affecting 15- to 24-year-olds. Yet that same year, almost twice as many Americans ages 15 to 24 died from guns as from drugs and alcohol combined. (In addition to homicides, that includes gun suicides, unintentional shootings and law-enforcement shootings.)
Delayed adulthood, living at home in your mid- to late-twenties, suffering from the reverberations of the recession, suffocating underthe burden of student-loan debt -- these are real worries for young adults. But they pale compared with premature death. More than half -- 54 percent -- of Americans murdered with guns in 2010 were younger than 30. Among 15- to 24-year-olds murdered with guns, 65 percent were black. Adulthood not delayed, but stolen. In addition, in 2010, 33,519 individuals ages 17 to 29 survived being intentionally shot. Disabilities, physical and emotional scars-- those last for life.
Low levels of household formation among young Americans may be a troubling portent for the nation's financial health. But not nearly as disturbing as the annual loss of more than 1 million years of potential life due to gun deaths. (Quite a few unformed households, to say the least.)
Because young people also perpetrate a substantial portion of gun violence, millennial lives are destroyed on both sides of the muzzle. In 2012, people under 29 accounted for about two-thirds of arrests on weapons offenses. Almost 5,000 12- to 24-year-olds were arrested in 2011 for homicides, and guns were implicated in about 70 percent of the murders. It costs taxpayers (who have already paid to educate the perpetrators) about $2 million to imprison someone for life beginning in his or her late teens. Not much economic stimulus there.
Overall, gun deaths among those under 26 declined considerably in the past quarter-century. More recently, progress has stalled. The Center for American Progress report notes, "While there was a significant decrease in gun deaths among young Americans following the violent crime surge in the late 1980s and early 1990s, in the past decade, gun deaths among young people have barely declined, even as our country continues to make great progress in reducing car accident deaths." The report predicts that if current trends persist, gun deaths among 15- to 24-year-olds next year will surpass car accident deaths for the first time since 1994.
We can create hotels to cater to millennials. We can offer young adults tapas and brew stronger beer. But nothing can erase this chilling statistic: Every 70 minutes, an American younger than 25 dies by gunfire.
QuickTake Americans and Their Guns
(Zara Kessler is an editor with Bloomberg View. Followher on Twitter at @ZaraKessler.)
This column does not necessarily reflect the opinion of Bloomberg View's editorial board or Bloomberg LP, its owners and investors.
The report was released in conjunction with Generation Progress's National Youth Gun Violence Prevention Summit. One of the groups that took part in the summit was Mayors Against Illegal Guns, which was co-founded by Bloomberg LP founder Michael Bloomberg.
To contact the author on this story:
Zara Kessler at zkessler@bloomberg.net
To contact the editor on this story:
Frank Wilkinson at fwilkinson1@bloomberg.net
Before it's here, it's on the Bloomberg Terminal.
LEARN MORE