Dave Camp's Tax Proposal: Likely Dead on Arrival
The proposal will probably land with a thud.
by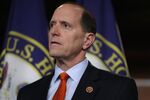 The tax-reform proposal that will be unveiled today by House Ways and Means Committee Chairman Dave Camp will probably land with a thud.
The Michigan Republican's plan will offer a reduction of the top corporate tax rate to 25 percent from 35 percent. He will also propose lowering the top individual rate to less than 30 percent from 39.6 percent, though there would be a surcharge on higher incomes. Some tax breaks would be curbed, but probably none of the politically sensitive ones, such as charitable write-offs and the home-mortgage deduction, would be much affected.
Camp has worked for years to fashion a package that lowers rates and broadens the base. His Democratic partner, former Senate Finance Committee Chairman Max Baucus, left Congress this month to serve as ambassador to China. Because some of Camp's tax cuts would be paid for under the assumption that they would produce strong economic growth -- a calculation known as dynamic scoring -- it is hoped they would be embraced by the new chairman of the Senate committee, Senator Ron Wyden of Oregon.
But yesterday, after a Wall Street Journal column suggested this, Wyden dismissed the idea, saying that "dynamic scoring will not be used" in evaluating the revenue effects of tax reform.
Moreover, some Democrats and advocacy groups are already taking aim at what they see as "gimmicks" in the Camp plan. Camp reportedly would allow U.S. companies with overseas operations to repatriate some of their foreign-sourced income at a lower tax rate -- which would raise revenue in the short term but not in the longer term. The same would be true with some of the proposed depreciation changes allowed in the proposal.
Chuck Marr, the head of tax policy for the Center on Budget and Policy Priorities, said his organization would oppose any proposal that uses these methods to raise revenue temporarily while cutting taxes permanently. He also questioned whether Camp's proposal would count against revenue the enactment of so-called tax extenders, provisions such as the research-and-development tax credit, which expired at the end of the year, and are always extended by Congress.
Republicans, in general, are unenthusiastic about enacting tax reform because it would involve controversial proposals such as new taxes on banks. Also, the White House has no interest in a measure that significantly lowers tax rates without serious long-term tax reform.
Thus, the chances of any congressional action on the Camp proposal this year are virtually nil.
This column does not necessarily reflect the opinion of Bloomberg View's editorial board or Bloomberg LP, its owners and investors.