Don't Count Out Tymoshenko in Ukraine
Yulia Tymoshenko probably shouldn't be Ukraine's next president. But the country needs her drive.
by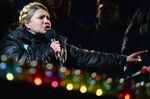 Yulia Tymoshenko, Ukraine's most famous political prisoner, cut a frail and diminished figure when she emerged from jail last weekend to address the crowd on Kiev's Independence Square from a wheelchair. They were less than ecstatic, but don't count her out. She is one of the world's truly tough women.